UPDATED: April 1, 2020
Attention Tribal Members
This section is dedicated to providing you and your family with the latest Tribal information as it pertains to the Coronavirus (COVID-19). Here, you will find current Mescalero IHS, Tribal, State, National, and local School information and more about the Coronavirus. Information for Tribal Employees also!
**REMINDER: Emergency Manager and Chief Conservation Officer, Tyner Cervantes recommends waiting for the Official Press Release on any Positive COVID-19 cases from the Governor's Office or the New Mexico Department of Health only. Any other news reporting outlet may not have the correct information and could cause unnecessary panic within the community.**
---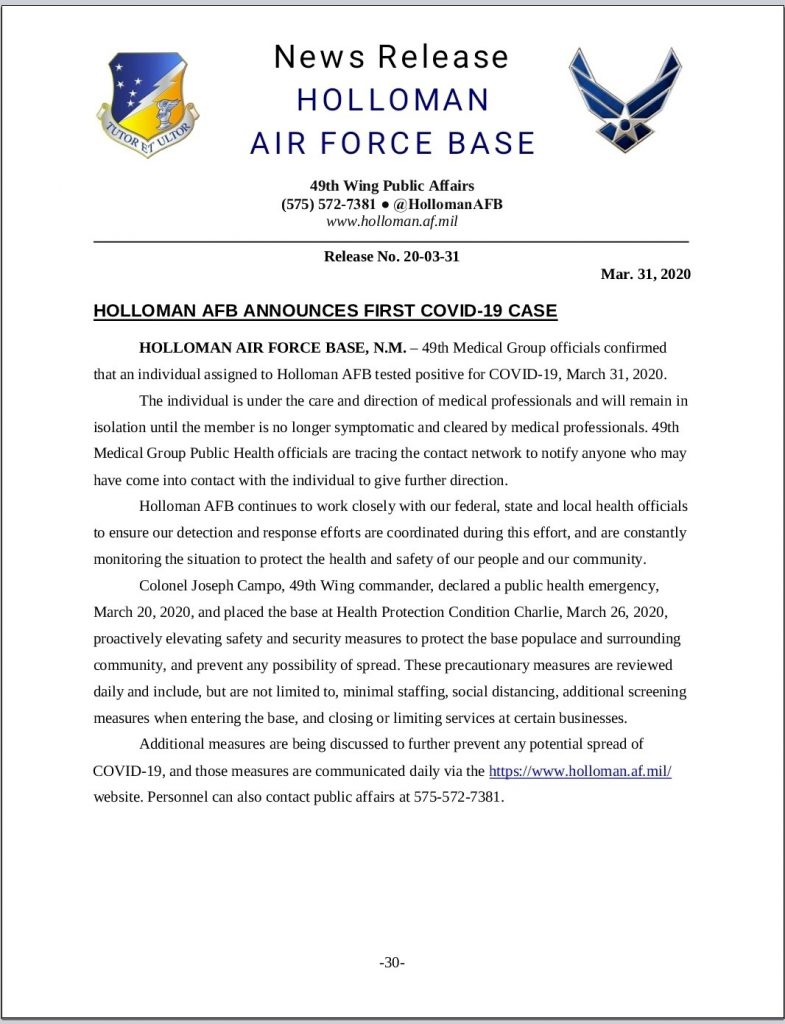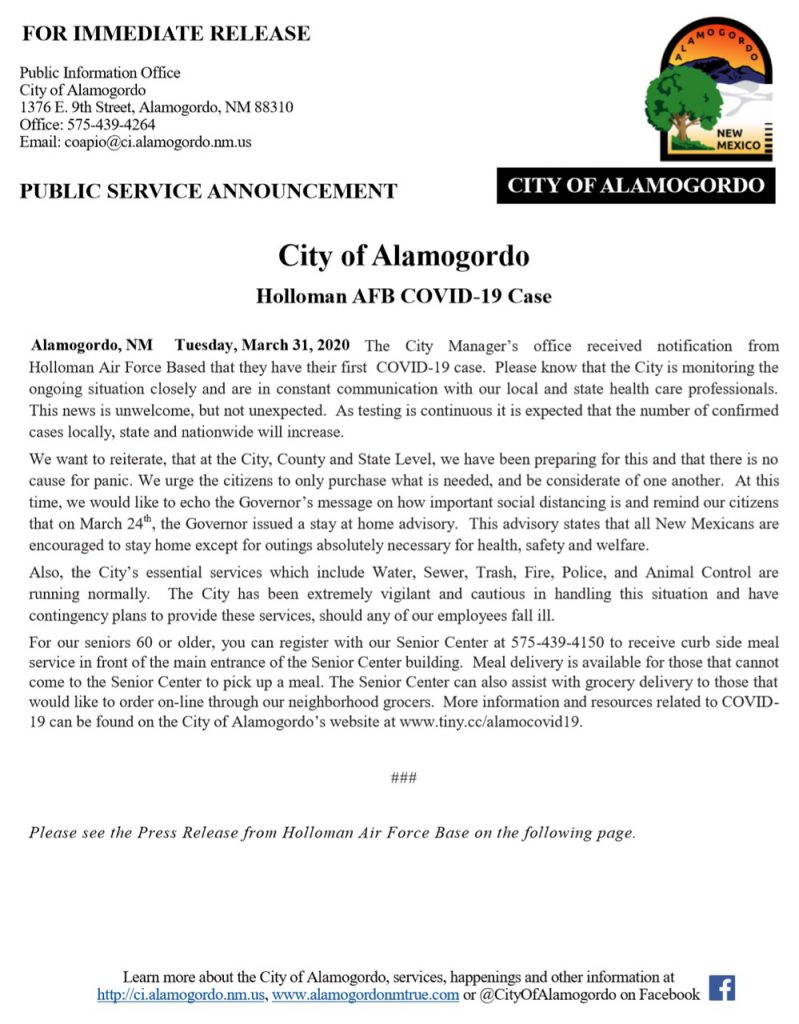 ---
State Information:
NMDOT discourages shopping in groups
Message boards provide COVID-19 instruction to shop alone
SANTA FE – The New Mexico Department of Transportation is advising people to shop alone to reduce the spread of COVID-19.
"This is not a time for a social outing. Leave family members at home where they are safe," Secretary Mike Sandoval said. "Please shop alone. Every time you leave your house you put your family and community at risk," adds Sandoval.
The department also advises New Mexicans follow COVID-19 precautions while shopping.
Practice social distancing. Stay at least 6 feet away from those around you.
Cover your coughs and sneezes with your elbow or tissue.
If possible, wipe down your shopping cart and wash your hands for at least 20 seconds before and after unloading your groceries.
As part of New Mexico's response to limit the spread of COVID-19, Gov. Michelle Lujan Grisham issued a public health order to stay home and self-isolate except for outings absolutely necessary for health, safety and welfare. You can learn more about the order and find other information related to COVID-19 at NewMexico.gov
The New Mexico Department of Transportation is using electronic message boards to remind communities to follow COVID-19 precautions.
SHOP ALONE
LIMIT EXPOSURE
STOP THE SPREAD
Related State Information:
---
Mescalero IHS Information:
Wednesday mornings at the hospital are now fully OPEN for patient care. This is because we are no longer holding the vast majority of our staff meetings due to social distancing requirements. This will continue until COVID precautions end.
As of the morning of Wed, April 1– curbside medication pickup has started. You will not need to leave your car during the entire process.
Please call pharmacy ahead of time at 575-464-3844 to order your medications. That way they can let you know if they are currently backlogged for medication wait time.
When you arrive, park at a spot marked "Curbside medication pick-up".
The front door attendant will notify our curbside runner when anyone arrives in a curbside medication parking spot.
The runner will come to your car w/ a form to privately verify your information w/ pharmacy.
The runner then will come back to your car w/ your medication bag.
You will be required to sign off that you checked your medication bag prior to leaving.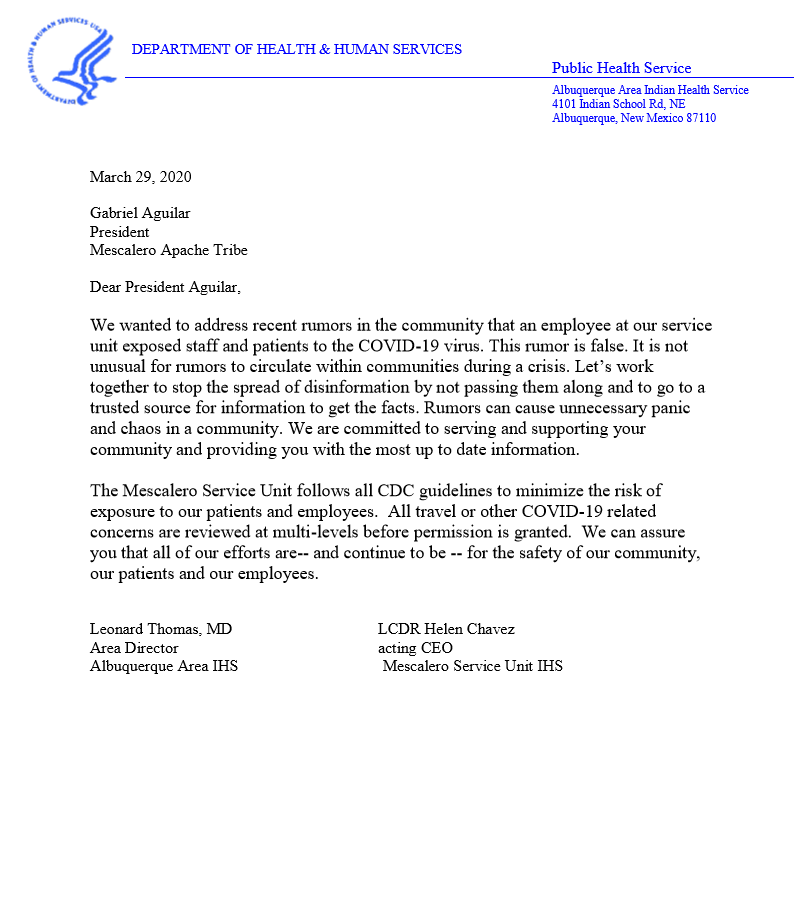 Related Information from Mescalero IHS:
---
Tribal Information:
Executive Order 20-02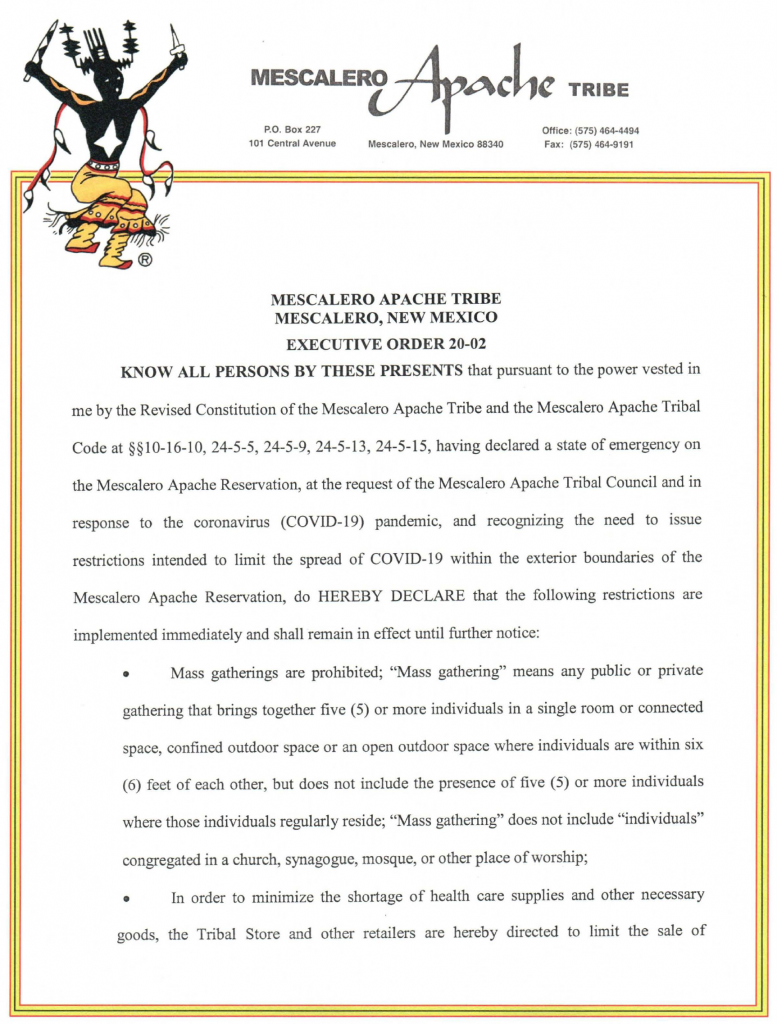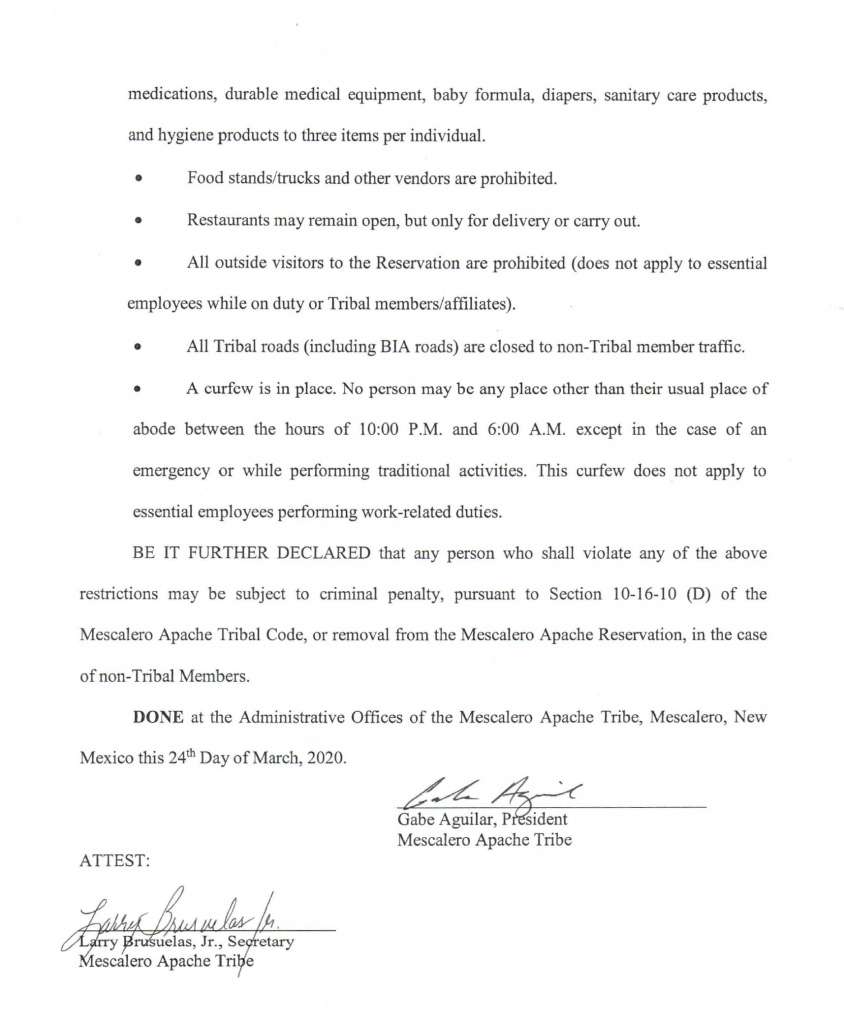 Mescalero Tribal Leadership declare State of Emergency due to COVID-19
MESCALERO, NM
March 20, 2020. Late last night, the Mescalero Apache Tribal President Gabe Aguilar proclaimed a state of emergency on the Mescalero Apache Reservation. This action came at the request of the Mescalero Apache Tribal Council.
President Aguilar stated, "The health and safety of our community is of paramount importance to the leadership of the Tribe. We are doing everything in our power to respond to the coronavirus health crisis." The Proclamation allows the Tribal President to take emergency actions to mitigate the spread of, prepare for, mobilize Tribal resources, and request federal and state funding to respond to the COVID-19 pandemic. Starting today, the Tribe plans to send non-essential employees home for at least two weeks. Other measures are planned and will be communicated to the Tribal community.
The Tribe is also encouraging Tribal members to self-isolate. Speaking to the Tribal community, President Aguilar requested: "Please check on your loved ones. But, make sure you do not endanger them – call them on the phone if possible and keep family gatherings to a minimum. We must all work together to protect ourselves and our community."
Related Tribal Information:
---
Important Links:
---
National Information:
SCAM ALERT: AG Balderas Issues COVID-19 Scam Alert and Safety Advisory to New Mexican Consumers
Santa Fe, NM — Today, Attorney General Hector Balderas issued a consumer safety advisory, warning New Mexican consumers of various scams related to the coronavirus outbreak. This advisory comes in the wake of many reports to the Office of the Attorney General of consumer price gouging and COVID-19 scams emerging in New Mexico.
"We must protect the health and safety of New Mexican families during this emergency, and that includes protecting them from fraud and abuse when they are most vulnerable," said Attorney General Balderas. "My office will prosecute anyone who breaks the law and takes advantage of vulnerable New Mexicans."
Attorney General Balderas encourages all consumers to be especially vigilant during this time and to be aware of the following:
COVID-19 HOTLINE SCAM Please be aware there are several phishing scams where the caller impersonates a representative from the COVID-19 Hotline or other medical entity. The scammer is asking for personal information like social security and date of birth, telling callers they must have that information in order to release COVID-19 testing results. Remind the public that we will never ask for your social security number. Any confirmation of a positive COVID-19 swab test will be made by the clinic where you were seen or the New Mexico Department of Health.
GENERAL PHONE SCAMS If anyone makes an empty promise that requires upfront payment, demands personal or financial information, or asks you to pay them with a gift card, this is likely a scam. Do your research. Please remember that real legal notices are sent in writing and are not communicated over the phone.
DOOR-TO-DOOR SCAMS Recently, there have been reports of groups or individuals going door-to-door falsely claiming to be doing in-home testing for coronavirus. Some scammers may claim to be from the government or authorized by the government.
COVID-19 CURE SCAMS There is no FDA-approved cure for coronavirus. Any company claiming that their product can prevent, diagnose, treat, or cure coronavirus without competent medical research supporting their claims is breaking the law. There is no credible evidence that coronavirus can be cured by drinking bleach, drinking colloidal silver, taking herbal supplements, or using other homeopathic remedies. When in doubt, consult a medical professional.
IMPLIED CLAIMS SCAMS In order to evade liability, some companies will merely imply that their products prevent, diagnose, treat, or cure coronavirus. Read claims carefully so you understand what is being promised and what is not.
E-MAIL PHISHING SCAMS Do not click on links sent to you by people you don't know. In the wake of disasters like the coronavirus outbreak, scammers will often email or text consumers claiming to offer things like free vaccines or free testing kits. Scammer will also attempt to collect personal information by impersonating a government agency like the Centers for Disease Control, the World Health Organization, the United Nations, and others. Never provide your personal information to someone you don't know.
FUNDRAISING SCAMS If anyone asks you for a donation to a coronavirus-related charity, do your homework before donating. Visit the Attorney General's Charities webpage to search for legitimate charities https://www.nmag.gov/charities.aspx and do not donate to anyone asking for cash, gift cards, or for money to be sent to them via wire transfer.
GENERAL DISINFORMATION SPREADING Know how to spot disinformation. Many websites will post misleading or inflammatory information about coronavirus in order to drive up page views and make money from advertisers. Here is a list of websites that have been reported for posting or publishing false information about the coronavirus outbreak: https://www.newsguardtech.com/coronavirus-misinformation-tracking-center/. For legitimate information, visit the State of New Mexico's comprehensive resource site (newmexico.gov); the CDC's website (https://www.cdc.gov/); or the World Health Organization's website (https://www.who.int/).
Any New Mexican that is suspicious of price gouging or scamming activity is urged to immediately file a complaint with the Office of the Attorney General at nmag.gov.
Above all, Attorney General Balderas encourages New Mexicans to stay safe and follow the orders and guidance of the Department of Health during this public health emergency. Any New Mexican who has questions or needs resources during this emergency should visit newmexico.gov or call 1-833-551-0518; or if they suspect that they have, or have been exposed to, COVID-19 to immediately call the State's Health Hotline at 1-855-600-3453.
---
School Information:
Food for Students
Mescalero Schools – UPDATE: 03/24/20
Mescalero Apache Schools will be providing one meal and snacks to all students during the continuation of our school closure. We have designated 7 locations where students can go to pick up this meal/snack.
We will be located at these sites Monday-Friday from 10:45- 12:15 (or when meals are all gone).
The locations for pick up are:
Pena (playground)
Carrizo Trails (by the stop sign in the middle)
Mud Canyon (playground)
Mescalero Apache School (front drive through)
Community Center (front)
Eight Canyon (old tool shed)
A & B Side (playground)
Palmer Loop can go to Carrizo Trails or Pena
**Parents will receive a call from Mescalero schools if the re-opening date changes. As of yet, the re-opening date is March 30th.**
Tularosa Schools
Monday, March 23, 2020 4 meals will be provided for Monday's and Tuesday's breakfast and lunch meals from 10:30 am – 12:30 pm at the Mescalero Community Center
Wednesday, March 25, 2020 6 meals will be provided for Wednesday's, Thursday's and Friday's breakfast and lunch meals from 10:30 am – 12:30 pm at the Mescalero Community Center
Offering meals March 16th – 20th and March 30th – April 3rd
8:30 am – 9:30 am Breakfast
11:30 am – 12:30 pm Lunch
At Mescalero Community Center
**Will not distribute meals during Tularosa Spring Break.**
Ruidoso Schools
Student Meal pick-up
Duration: 3 week mandatory school closure (March 16th – April 6th)
Monday – Friday
7:30 am – 8:30 am Breakfast
12 pm – 1 pm Lunch
At drive-thru service at White Mountain Elementary School
Student name required for meal pick up.
**Backpack for Kids food program will continue during mandated school closure with food available for weekends.**
---
Attention Tribal Employees
This section is for Tribal Employees who may not receive important information in a timely manner as it pertains to their department.
---