Tribal Scholarship
ATTN: Tribal Education Dept.
P.O. Box 227 Mescalero, NM 88340
Ph: 575-464-4500 Fax: 575-464-4508
The Mescalero Tribal Scholarship packet is exclusive for all enrolled members of the Mescalero Apache Tribe only! When completing one of the packets, be certain you are printing the packet that will be required for your need:
Beginning Packet – first time ever applicant
Continuing Packet – continuing each year applicant
Returning Packet – returning after a year or more off from college
By providing these documents online it will be your absolute responsibility to complete the correct packet and get it to our office on or before the required deadline date:
June 1, 2022 – Deadline for the entire Academic Year (Fall, Spring & Summer Semester) 
June 1, 2022 – Deadline for Fall Semester ONLY
November 1, 2022 – Deadline for the Spring Semester ONLY
April 1, 2022 – Deadline for the Summer Semester
Our office will not accept any incomplete Scholarship packets.
Our office will not accept any Scholarship packets after the deadline date.
Our office will not accepted any faxed application packets; therefore please mail with ample time, so we do receive your complete packet in a timely manner!
Housekeeping documents that are helpful to have:
If you are not sure of the packet that is required for your need, do not hesitate to contact Kelton Starr, Director. Office: 575-464-4500 Email: [email protected]
*Any and all inquires about the Tribal Education Dept. must go through Mr. Kelton Starr.
Announcements: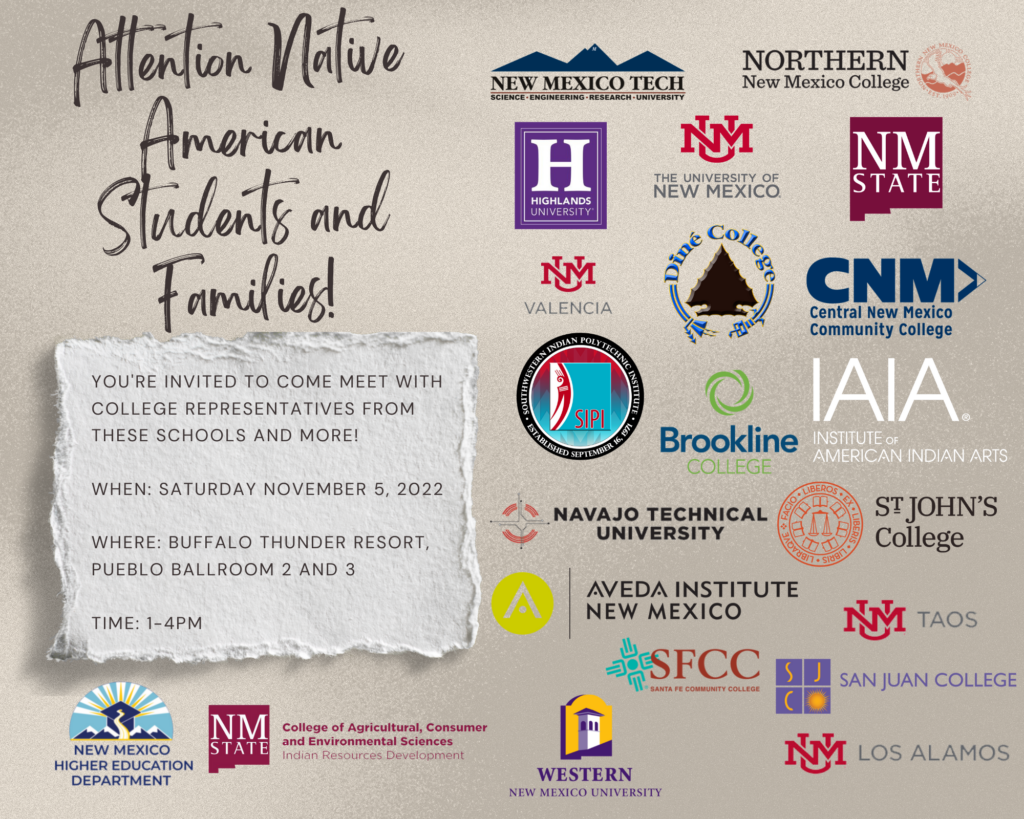 The Health Professional Loan Repayment program is now accepting applications! The application is open until 5:00pm, May 1, 2022. The purpose of the New Mexico Health Professional Loan Repayment Program (HPLRP) is to provide repayment for outstanding student loans of practicing health professionals. As a condition of the program, a health professional must make a two year service commitment to practice full-time in a designated medical shortage area in New Mexico. The HPLRP is a competitive program. Application to the program does not guarantee funding. Applicants must apply online through an online portal that can be found here along with more information: Health Professional Loan Repayment Program | NM HED | NM Higher Education Department (state.nm.us) For any questions about the loan repayment program, please contact our financial aid division via phone or email below.

NMHED, Financial Aid Division Contact Information. Phone: 1-800-279-9777. Email:

[email protected]
Click here to view the National Park Service (NPS), Rivers, Trails and Conservation Assistance Program announcement for a native/indigenous outreach coordinator for candidates who identify as Latino and native/indigenous. Interested candidates can apply at NPS Native/Indigenous Outreach Coordinator. The person selected will report to the NPS office based in Austin, TX but the position can be virtual. The position entails assisting the NPS with outreach to indigenous/native tribes in NM, TX, OK, CO.
Need help with buying your summer text books? Mescalero Community Library can help! Email [email protected] for more info!
Links and documents helpful to know:
---