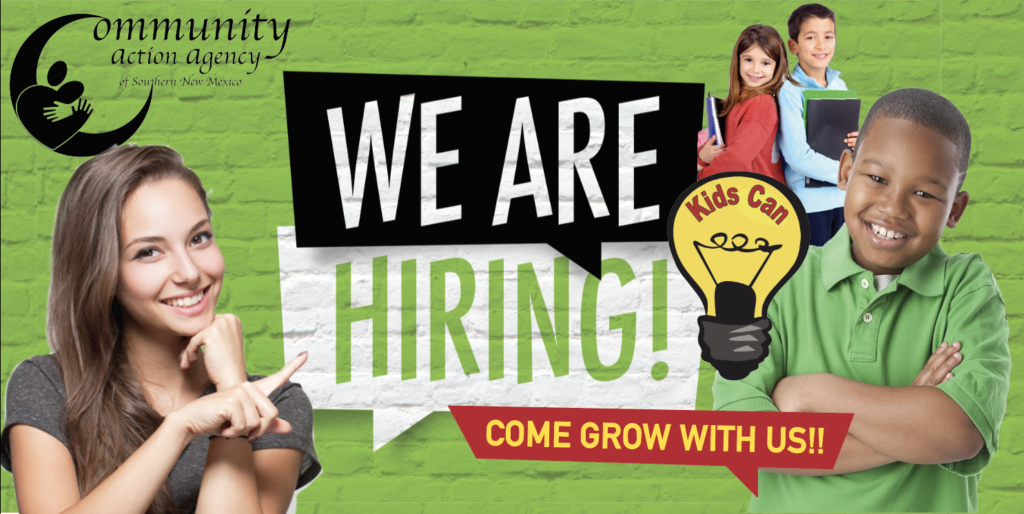 Community Action Agency of Southern New Mexico, Inc. (CAASNM,) is a non-profit organization that
works with people of limited resources to increase their independence and quality of life. We are a
team-oriented workplace that collaborates with many community groups to help people become
self-sufficient and empowered to pursue their future goals. We are recruiting for the following position:
Kids Can – Project Coordinator: Full-time with benefits (medical, dental/vision, retirement, and generous
annual/sick leave, 30-40 hours, starting $16-18 per hour)
Full-time position managed at CAASNM's main office in Las Cruces, NM (Remote telework as needed for
rural program coordinators). The position will be supervised by the Kids Can Program Director.
Responsible for facilitating In and out of school time program(s) for elementary, middle, and high school
age youth; Plan and execute meeting logistics, youth learning opportunities as well as large public events;
support in the development of youth business building classroom resource and management tools,
instruct and/or facilitate programming, promote the social-emotional and intellectual well-being of
participants, perform various administrative and programmatic duties for the Program Director.
Bilingual in English/Spanish preferred; highly organized; ability to interact with the public of all ages in a
friendly and congenial manner; strong interpersonal skills; culturally competent and able to work with
diverse populations in urban or rural communities throughout Southern New Mexico.
Assist with the planning of youth development programs (entrepreneurship, leadership, public speaking,
and life skills), youth projects, and other workshops across the region. Coordinate logistics for community
and youth events and provide support throughout the meeting/event. Create, maintain, and update the
organization's social media accounts. Attend outreach and pop up market events on behalf of the agency.
Some Saturdays and evenings are required. Other related duties as assigned. The deadline for
applications is: until the position is filled.
An application can be found by visiting our website at
https://www.caasnm.org/job/rural-kids-can-coordinator-otero-county/
A completed application, resume and cover letter is required to be considered for the position.
Questions about this position can be directed to: April Christensen, [email protected]
575-527-8799 Ext. 117 | Cell (575) 740-9306