Mescalero Community Health Representative Program
by Mescalero Apache Tribe | October 20, 2015 11:14 am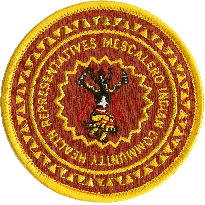 456 Lipan Ave. Mescalero, NM 88340
Phone: (575) 464-1614                               Fax: (575) 464-0114
CHR Duties:
Must provide emergency care and First Aid.
Follow guidelines provided by the CHR program, the American Red Cross/American Heart Association, issuer of CPR certification.
---
Provide transportation to and from HIS clinic as needed.
Staff member must be able to assist handicapped people in wheelchairs, walkers, and other appliances while transporting. Proper utilization of infant/toddler car seat and use car seat belts.
---
Coordinate activities for health education, workshops and conferences for all age groups.
Development of health programs to incorporate the Mescalero Apache culture and language.
Provide a comprehensive culturally sensitive care in prevention of illness and health maintenance.
---
Coordinate and provide activities for health education in areas of Diabetes, Cancer, HIV/AIDS, Safety and Injury Prevention to include Child restraints, safety belt use etc., to all community members.
Develop health programs, activities in prevention of illness, promotion, and maintenance of health.
---
Provide case management and follow-up.
Coordinate with IHS to follow-up on patients that have been discharged from other facilities.
Maintain management until discharged from CHR program.
---
Advocate on behalf of clients and link to available resources.
Provide intake and referrals to Medicaid, Medicare programs.
Referrals to alcohol rehabilitation center, BIA social services, Mental health programs, and the Tribal court system.
---
Provide health screening or assist other programs providing service.
Select a site to do screening; encourage community members to utilize services.
Make a proper referral.
---
Monitor patients and clients through home visits; maintain records and data for reporting.
During home visits briefly assess, evaluate and identify health needs. Refer to proper service provider.
All patient encounters are properly entered into the IHS RPMS system.
---
Provide health education for individuals, families, schools, groups, and the community.
Health education will be taken into the home, school, or other facilities where the service is requested.
---
Keeping updated by means of attending meetings, training's, and workshops.
Each staff member will keep abreast of current trends in medicine via workshops to maintain their certifications.
---
Establish good public relations with clients in community.
Each staff member will have good rapport with community people. Use of native Apache language is encouraged.
---
Provide in-service training to staff.
Each staff member will provide in-service after returning from any training. This is another means of keeping up-to-date in current trends.
*Perform other duties as assigned.
Source URL: https://mescaleroapachetribe.com/mescalero-community-health-representative-program/
---