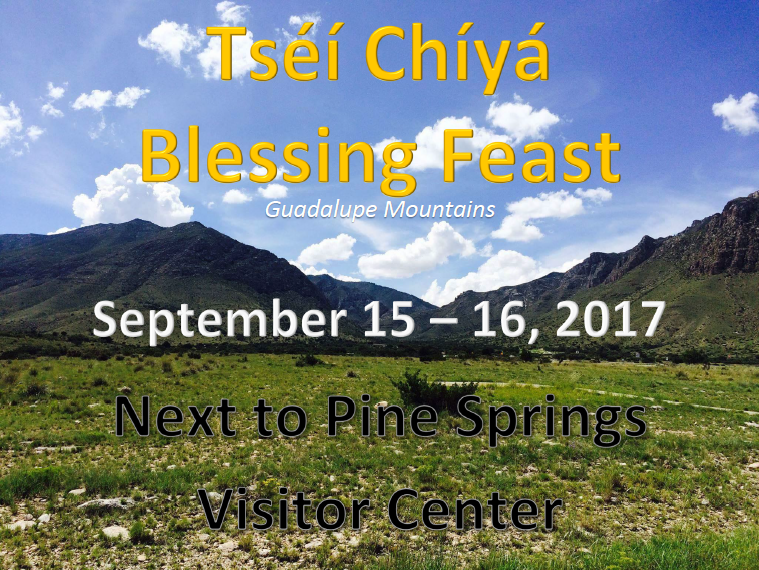 In early spring of this year, the 2017 Tribal Council voted in favor of Resolution 17-51 in which the tribal council recognizes the importance of traditional blessing ceremonies to the vitality and well-being of the Mescalero Apache people.
With this, in the next four years, the Tribal Council wishes to sponsor a Blessing Feast at each sacred mountain: Sierra Blanca, Guadalupe Peak, Tres Hermanas Mountains, and Oscura Mountain Peak.
Beginning this fall, the Tribal Council will sponsor the first Blessing Feast, in regards to Resolution 17-51, at tséí chíyá (Guadalupe Peak).
To kick off the journey back to tséí chíyá, a Blessing Run will start on Thursday, September 14, 2017 at Mescalero and end Friday, September 15, 2017 at the Guadalupe Mountains National Park near the Pine Springs Visitor Center.
The Blessing Run will be about 180 miles to the Guadalupe National Park and all Mescalero runners are invited to participate. With over 10 miles of trail run at the end, Mescalero's most experienced runners are strongly invited to participate.
Meanwhile, the Blessing Feast will be September 15 & 16, 2017 at the Guadalupe National Park near the Pine Springs Visitor Center.
Although, there are no hotels or gas stations within close range of the visitor center, camping and RV camping is highly recommended. With a water station onsite, feast goers could bring refillable water bottles since there is no water for sale; extra food and snacks is encouraged.
The Mescalero Apache Tribal Council, Vice President and President urge tribal members to be involved in this spiritual journey as much as they are able to now, and in the next four years.
The Blessing Feast and Run is a chance for tribal members to reconnect with the original Apache homelands and continue the prayer strength of the Mescalero Apache people and their way of life.
"This focus will allow us to never forget its special meaning to our ancestors and to continue to pass along that meaning for our generation and generations to come." Danny Breuninger, Mescalero Apache Tribal President.
For your convenience, below is a map of where the blessing feast will take place.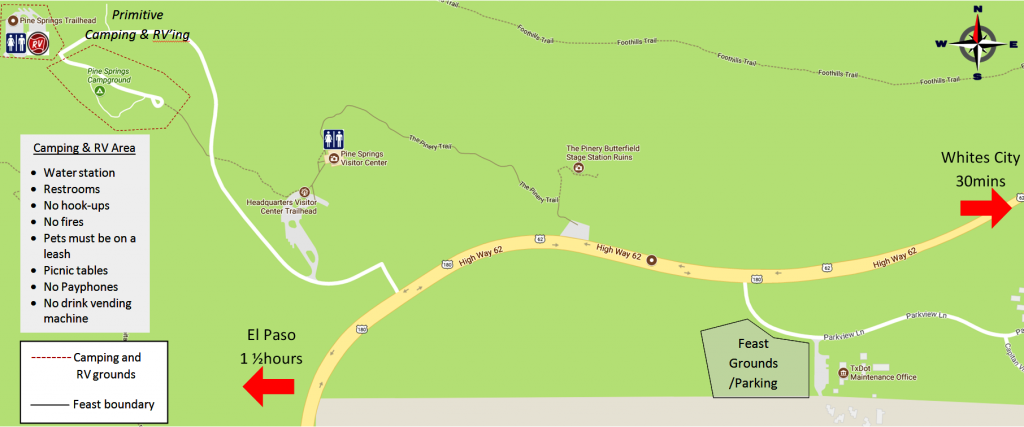 Any tribal member runners willing to participate in the Blessing Run on September 14 & 15, 2017 must sign release forms before the run. These forms can be picked up and returned to Elaina Via at the Mescalero Tribal Offices.
Also, public transportation to and from the feast grounds near the Pine Springs Visitor Center is available. Two transportation vehicles will depart from Mescalero at noon and 12:30 pm on Friday, September 15, 2017. All public transportation vehicles will return to Mescalero Sunday, September 17, 2017. Sign up is required prior to departing, please sign up for public transportation with Elaina Via at the Mescalero Tribal Offices.
Community members who wish to "send off" the runners on Thursday, September 14th are greatly encouraged to do so! All runners will be gathered at the Mescalero Community Center at 9am.
For more information about the Blessing Feast, Blessing Run, or transportation, call the Mescalero Tribal Offices at 575-464-4494.