NASA's engineering design challenge focuses on NASA's current plans to explore planets, moons, asteroids and comets — all members of the solar system family. The NASA Human Exploration Rover Challenge was held March
30 – April 1, 2017, at the U.S. Space & Rocket Center and is open to high schools, college students and various countries. The challenge focus on designing, constructing and testing technologies for mobility devices to perform in these different environments, and it will provide valuable experiences that engage students in the technologies and concepts that will be needed in future exploration missions.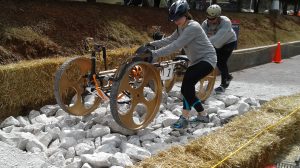 Rovers were human-powered and carry two students, one female and one male, over a half-mile obstacle course of simulated extraterrestrial terrain of craters, boulders, ridges, inclines, crevasses and depressions.
Each student team consists of six members and they are responsible for building their own rover, and the two course drivers must be chosen from the team.
Team members for next years challenge will be:
Jeremy Begay – Team Captain
Cedric Barcus
Derald Begay
Eulalia Peganse
Andrea Valenzuela
Roann Blake
Team School Sponsors: Nate Raynor and Myra Mendez
The team did an outreach to Sandia National Lab and Adamandios Manoussakis an Electrical Engineer volunteer to help our team build for next years challenge.
We will be doing some fundraising to help get the team to Huntsville next year. For more information on how to help, please contact Mr. Raynor or Myra Mendez at the Mescalero Apache Schools.