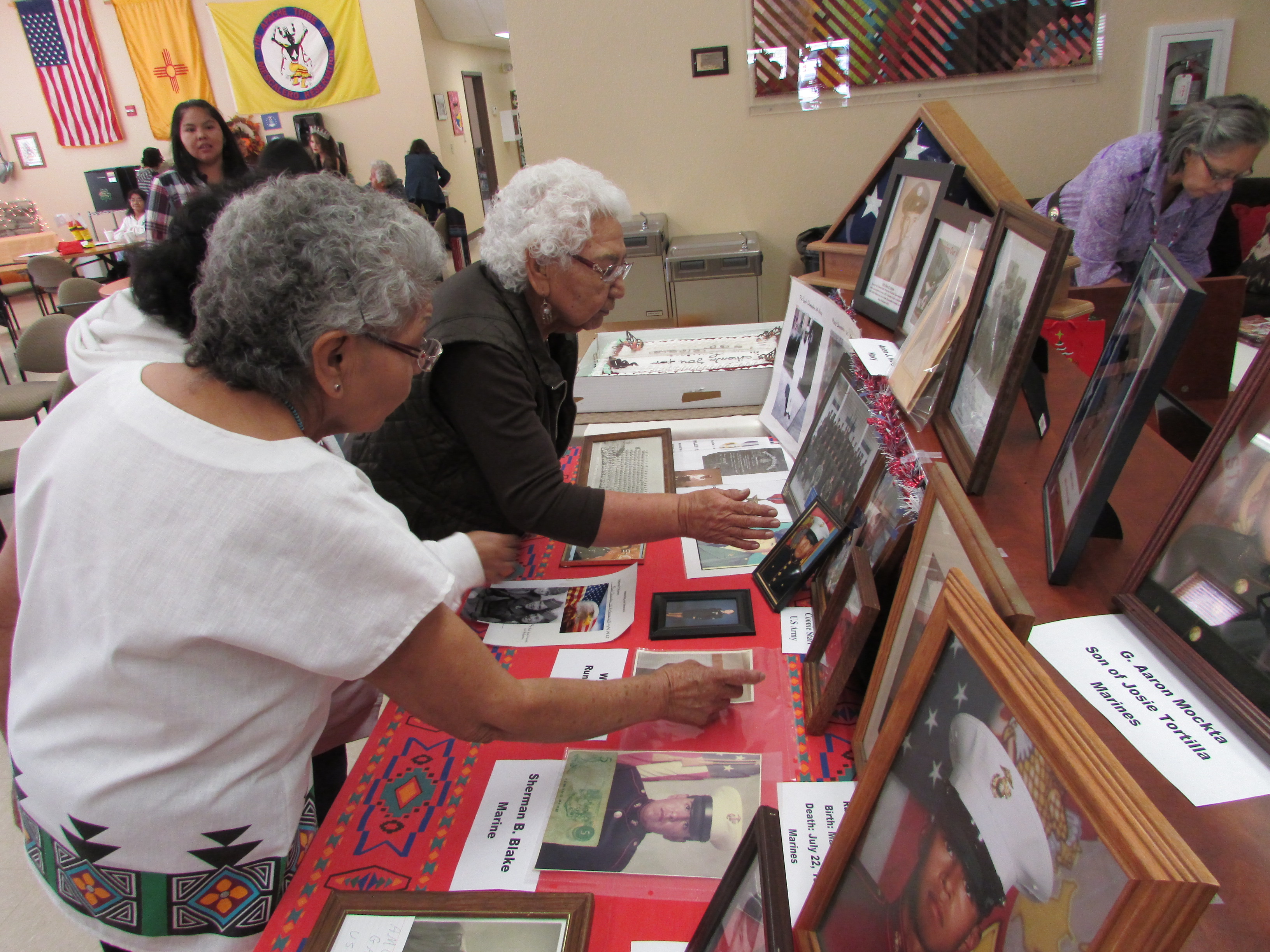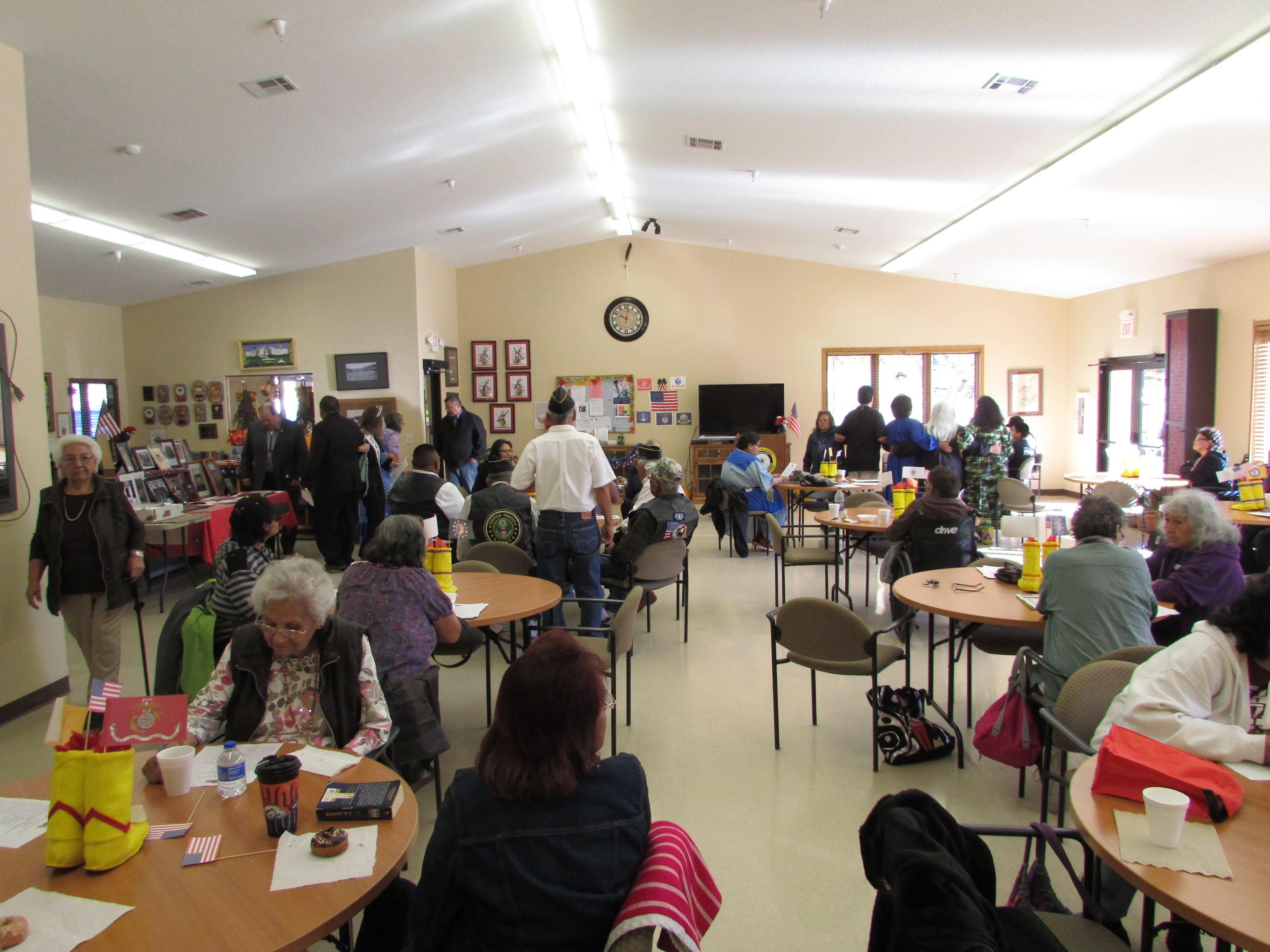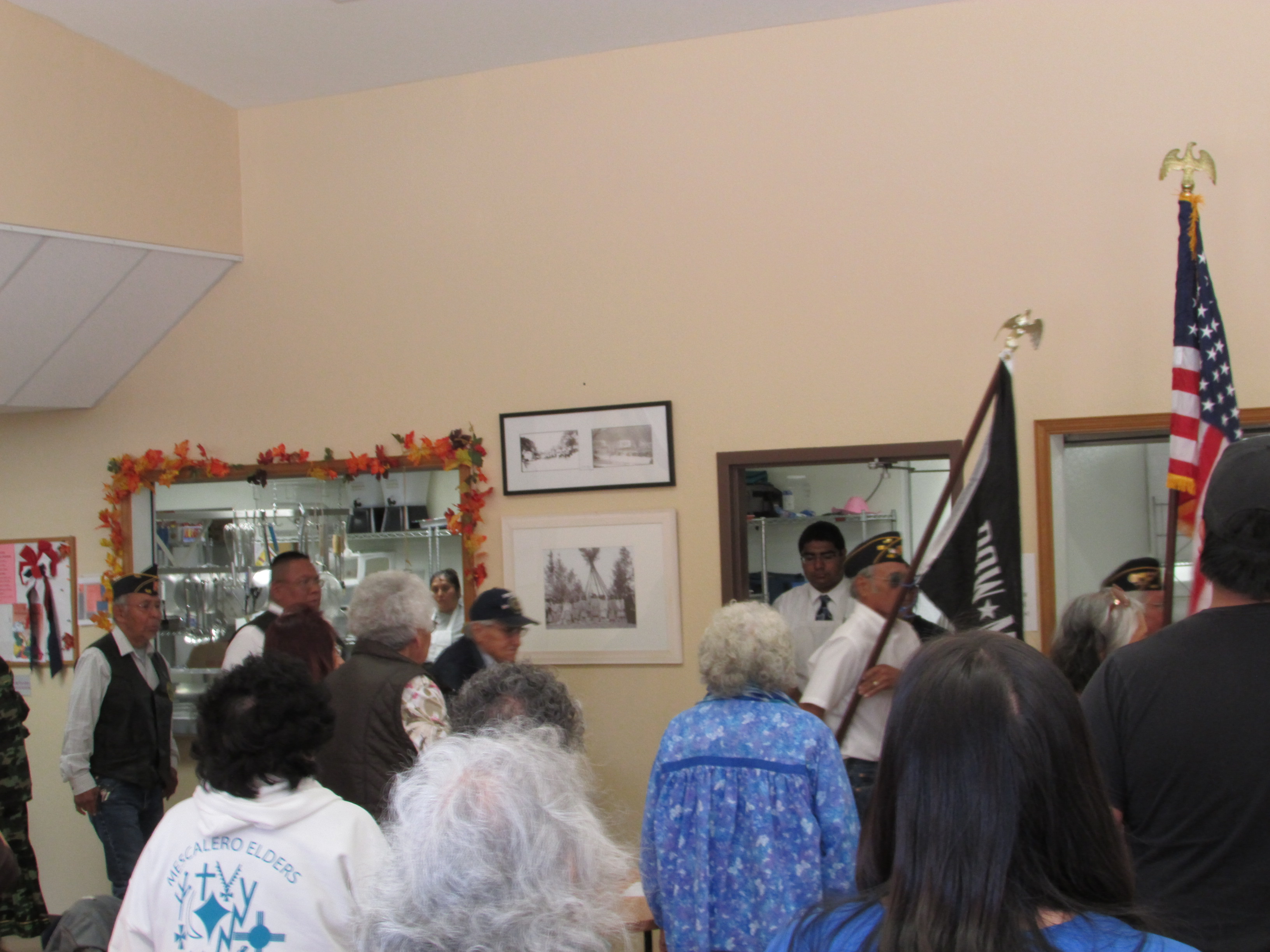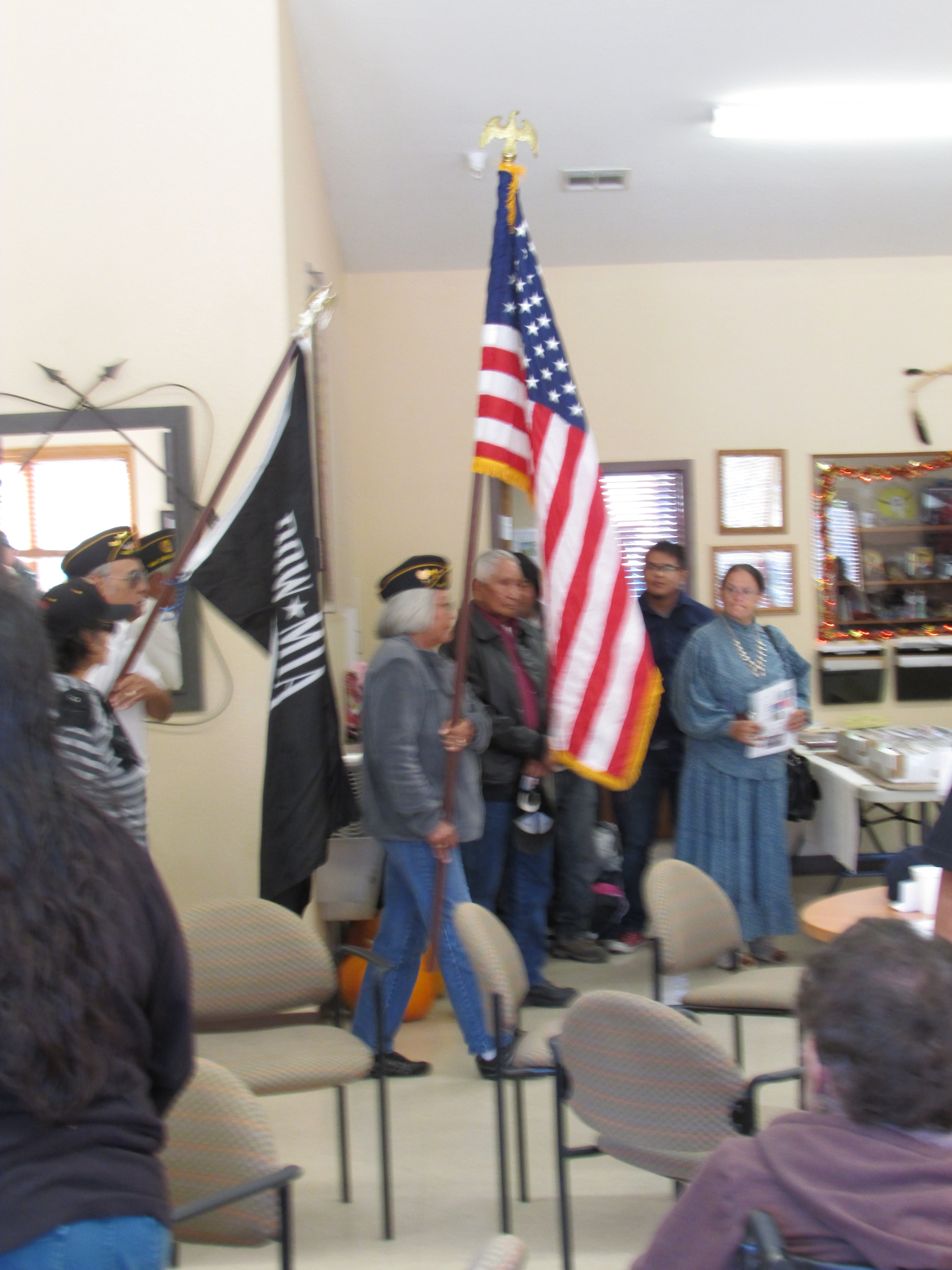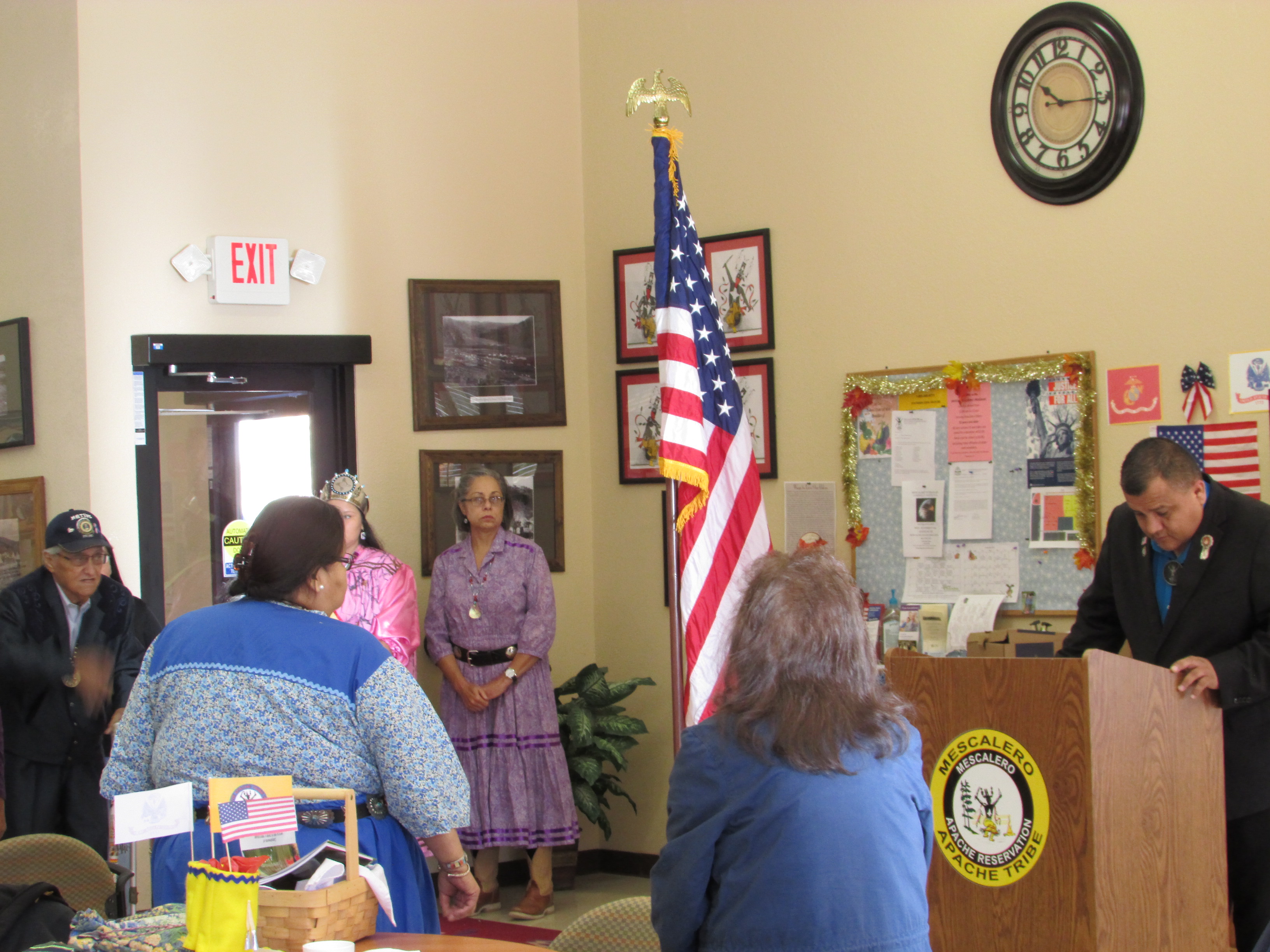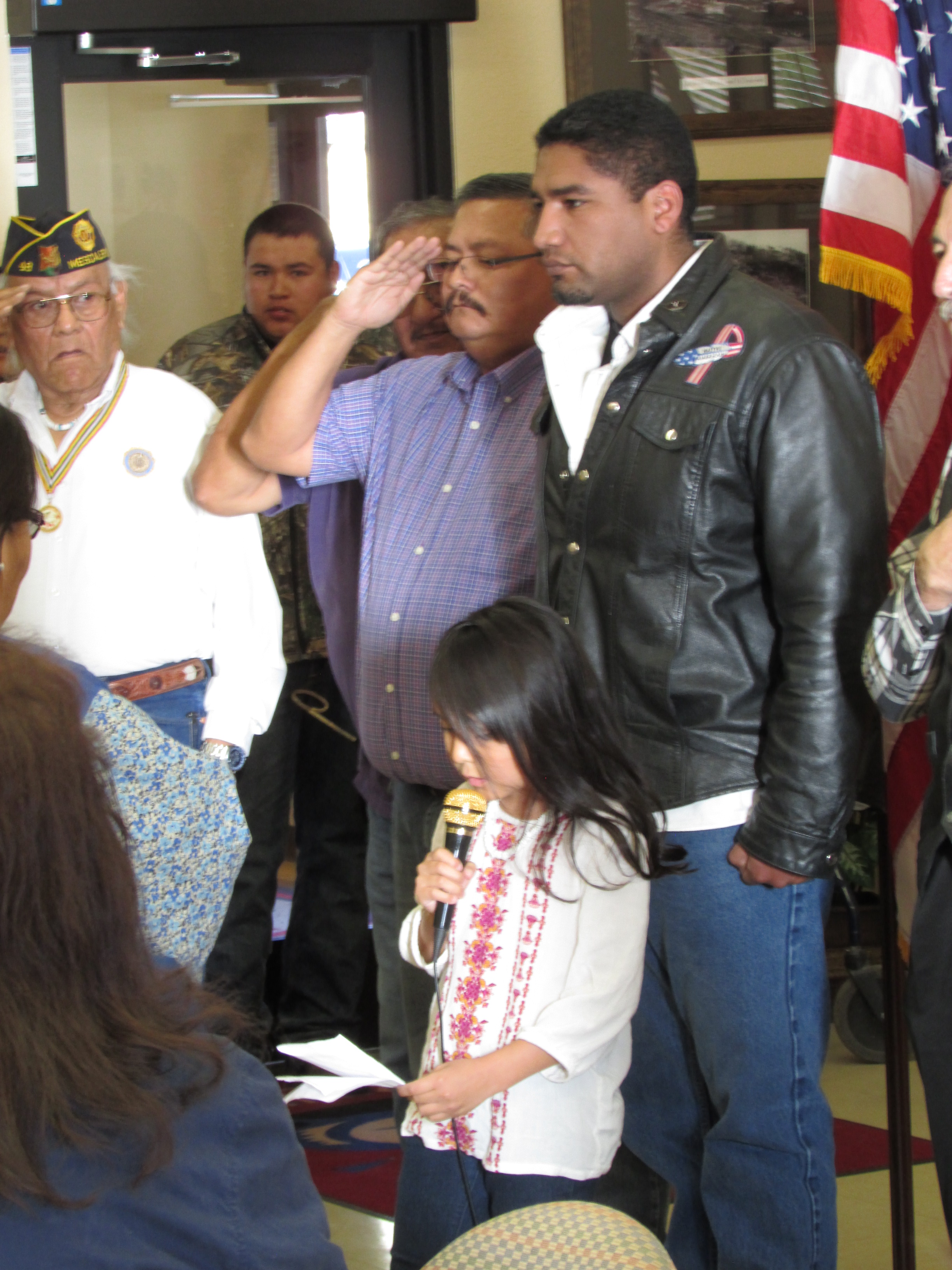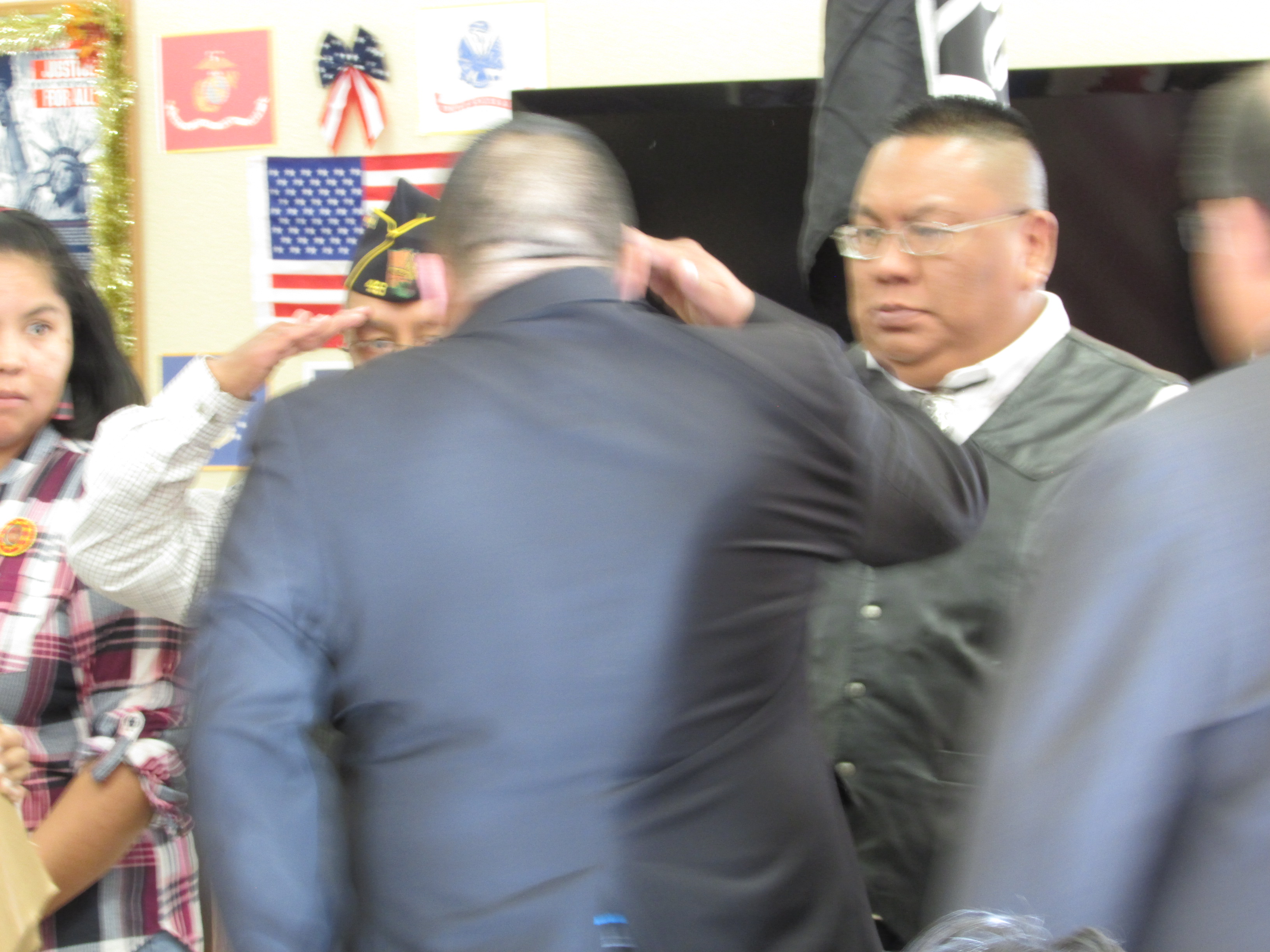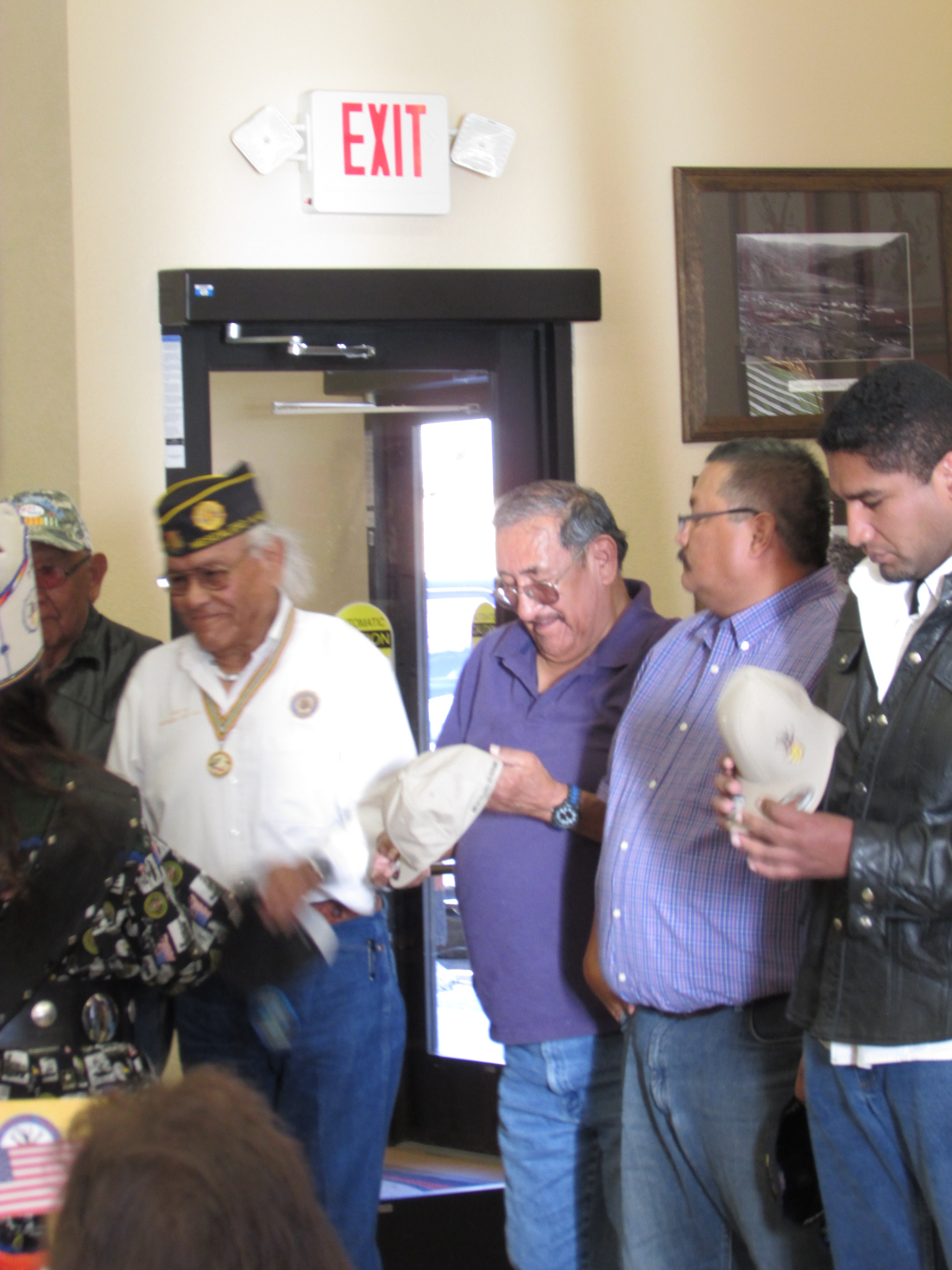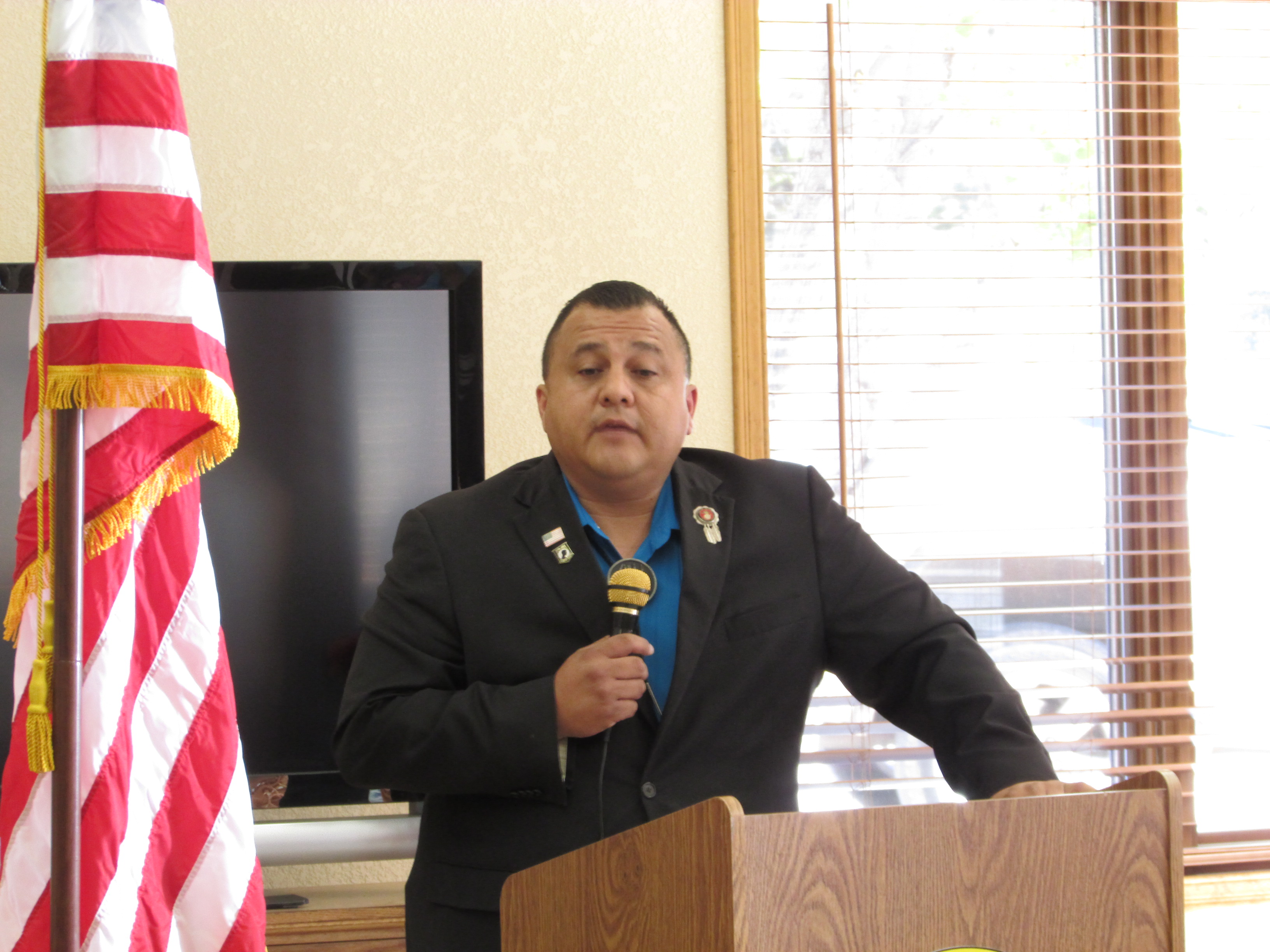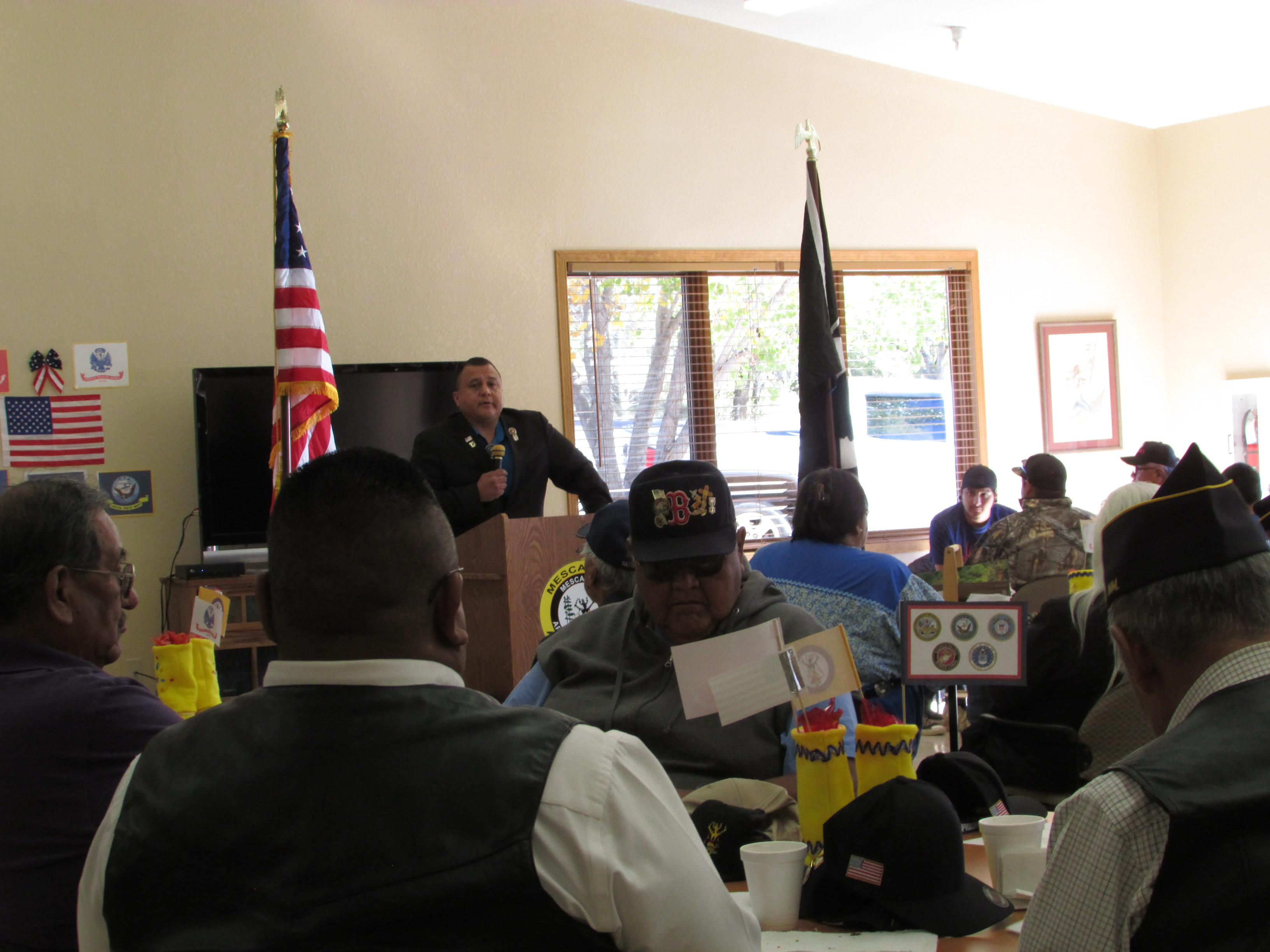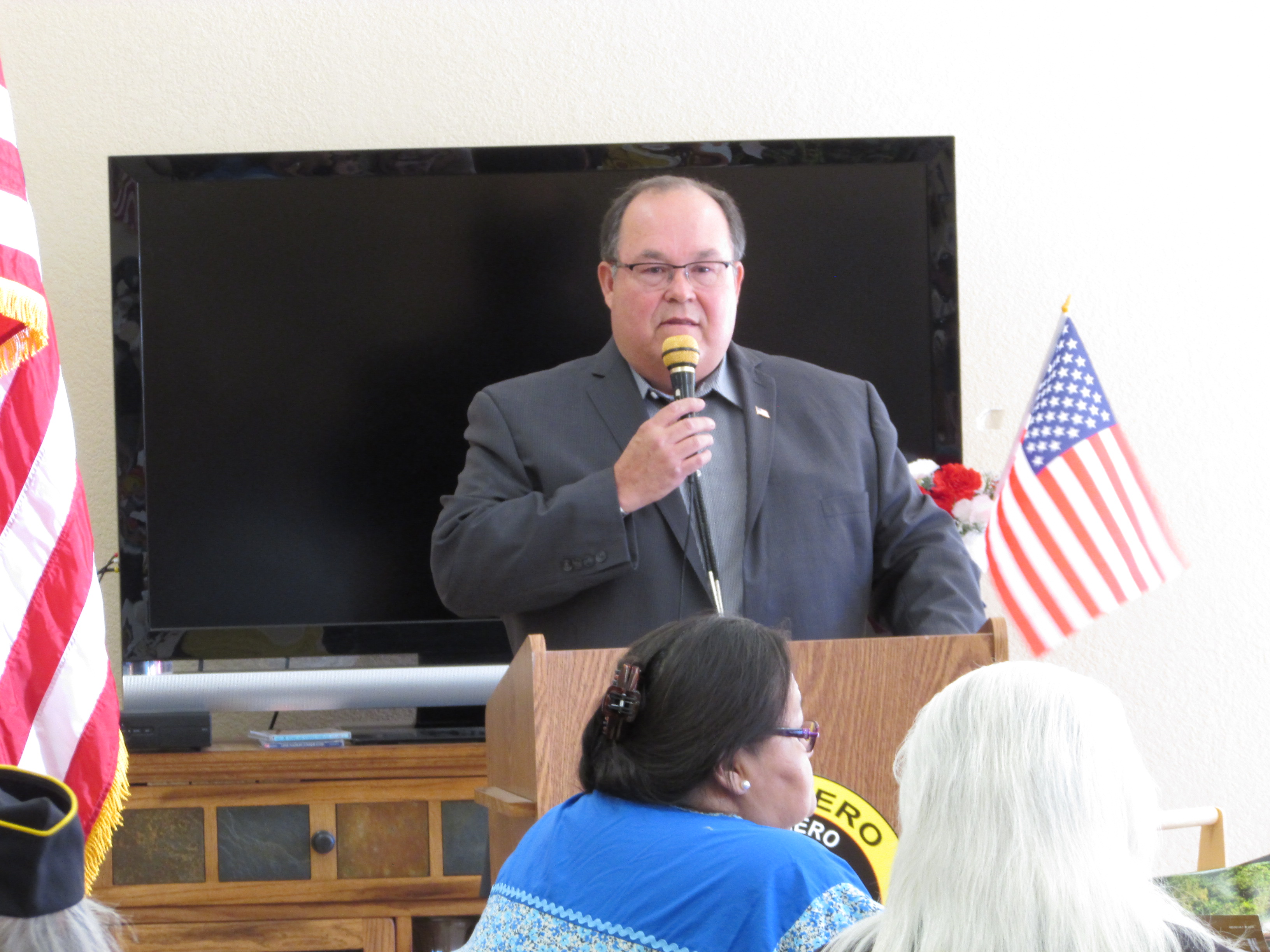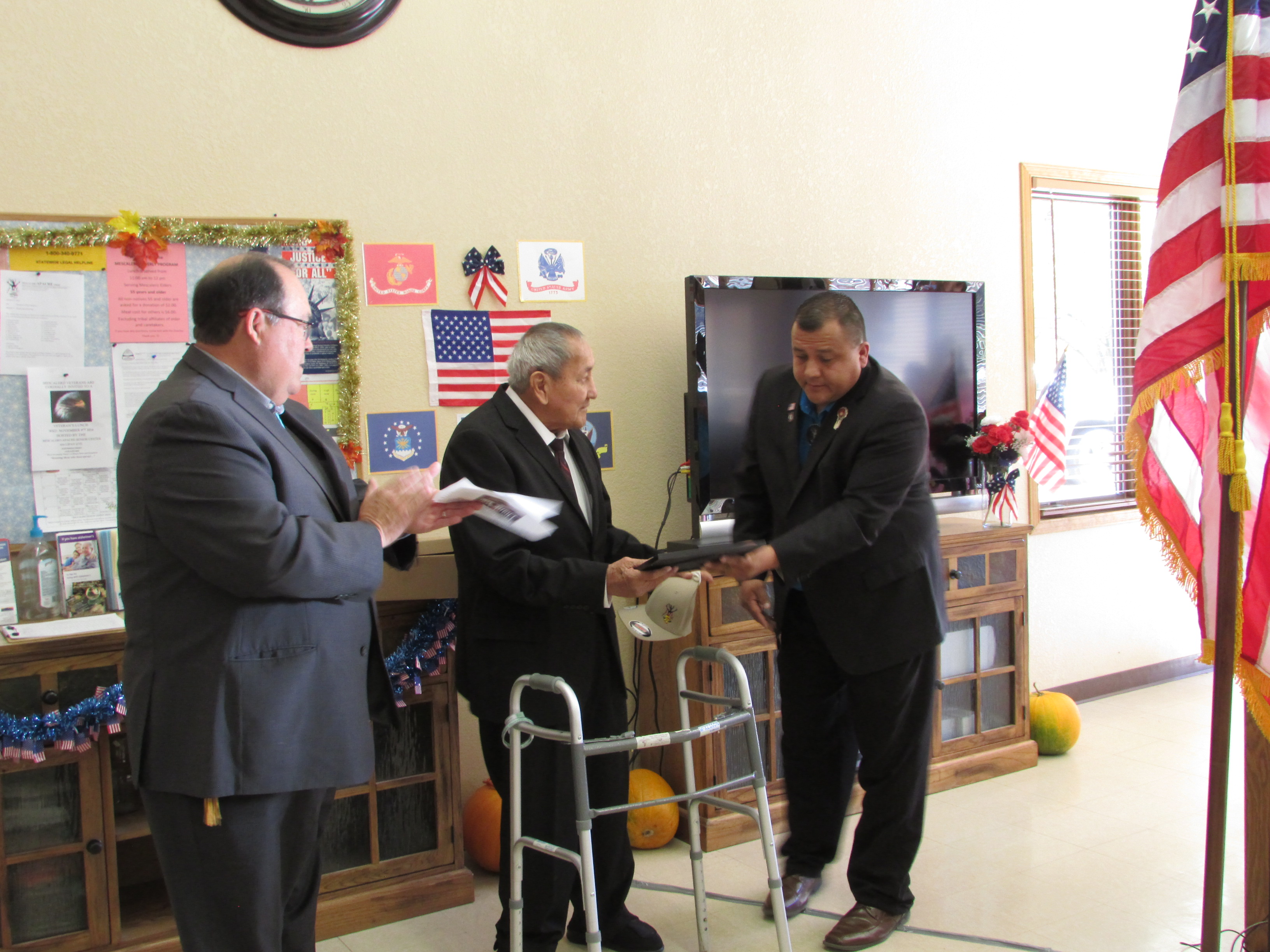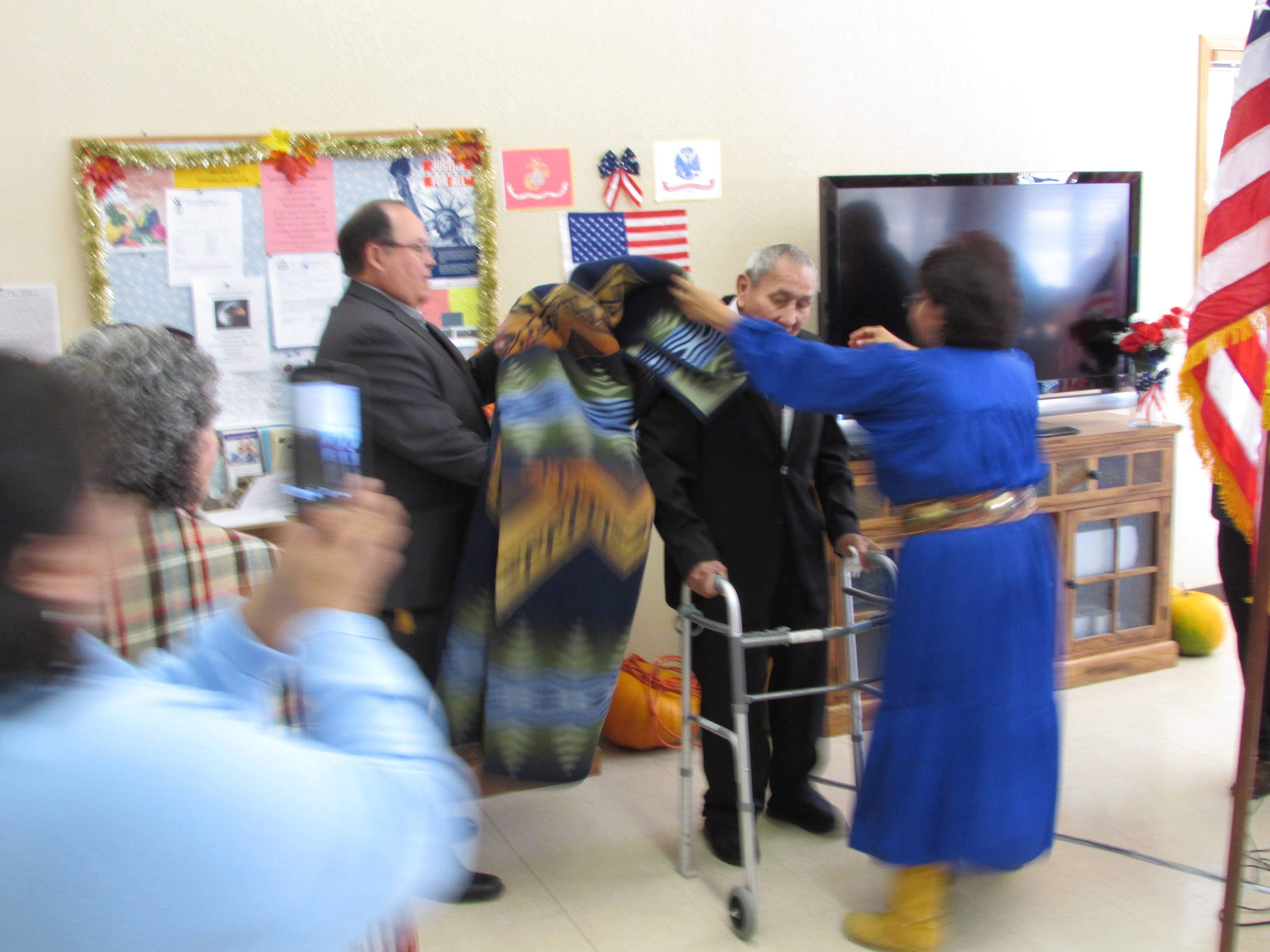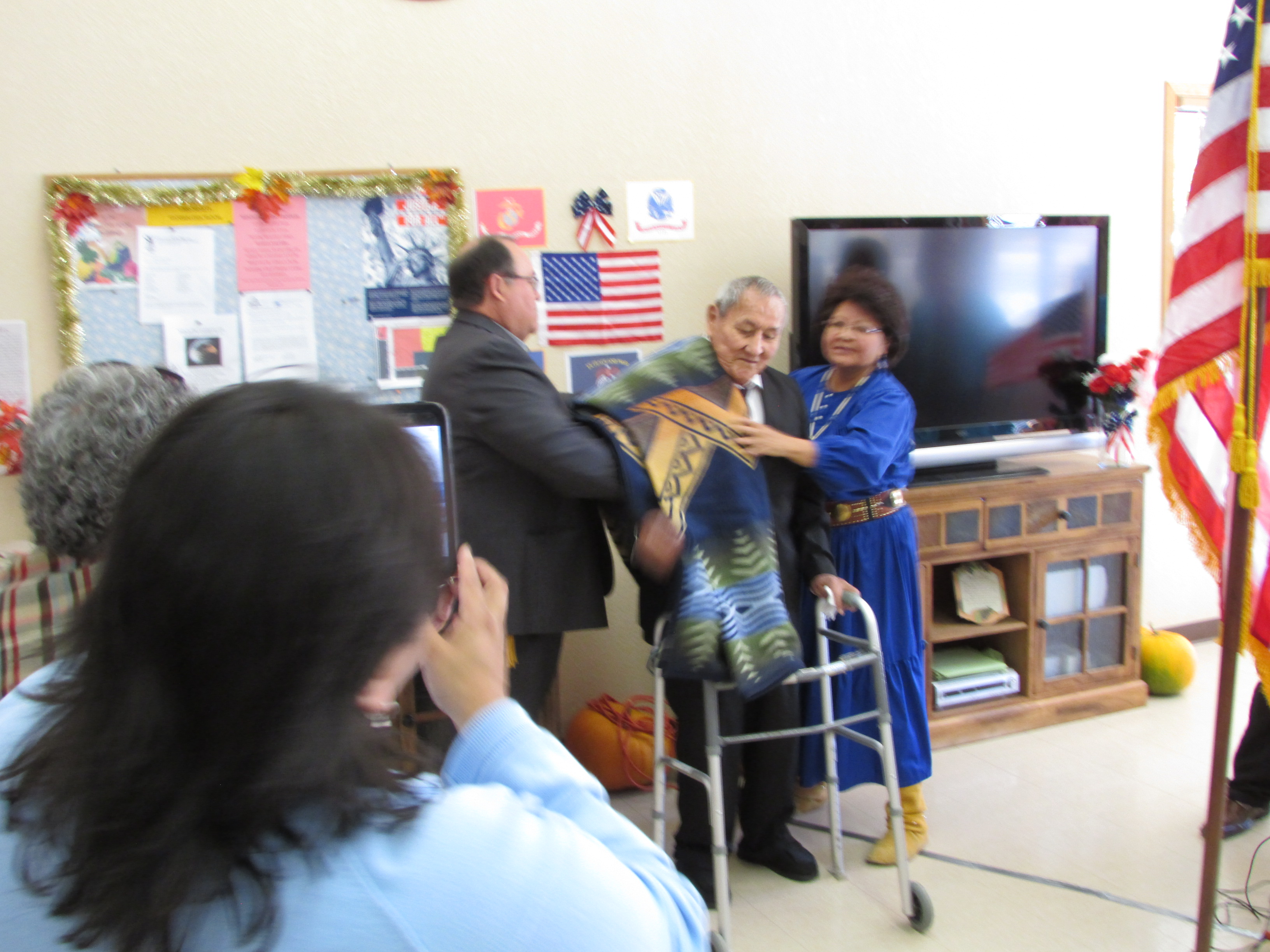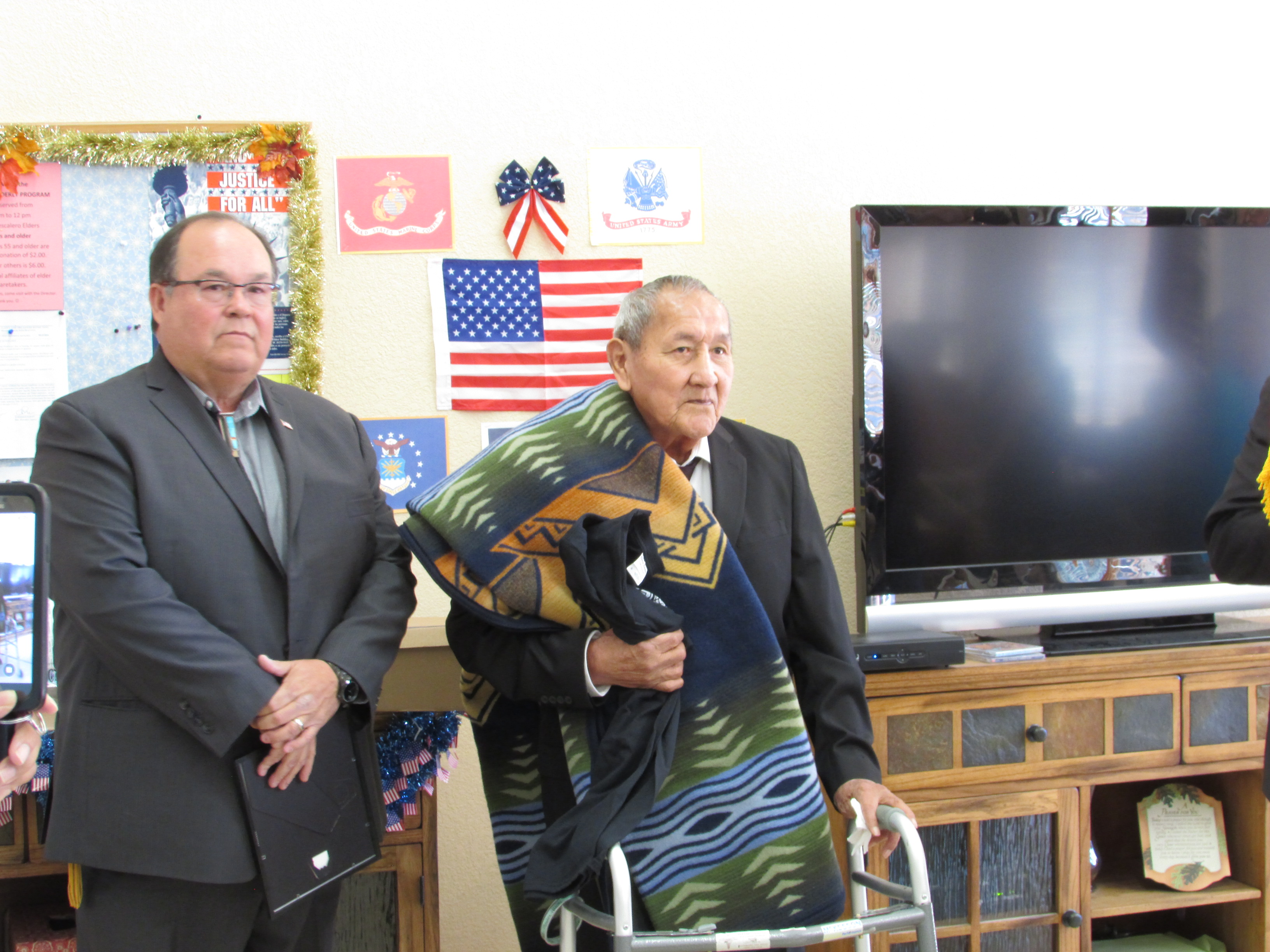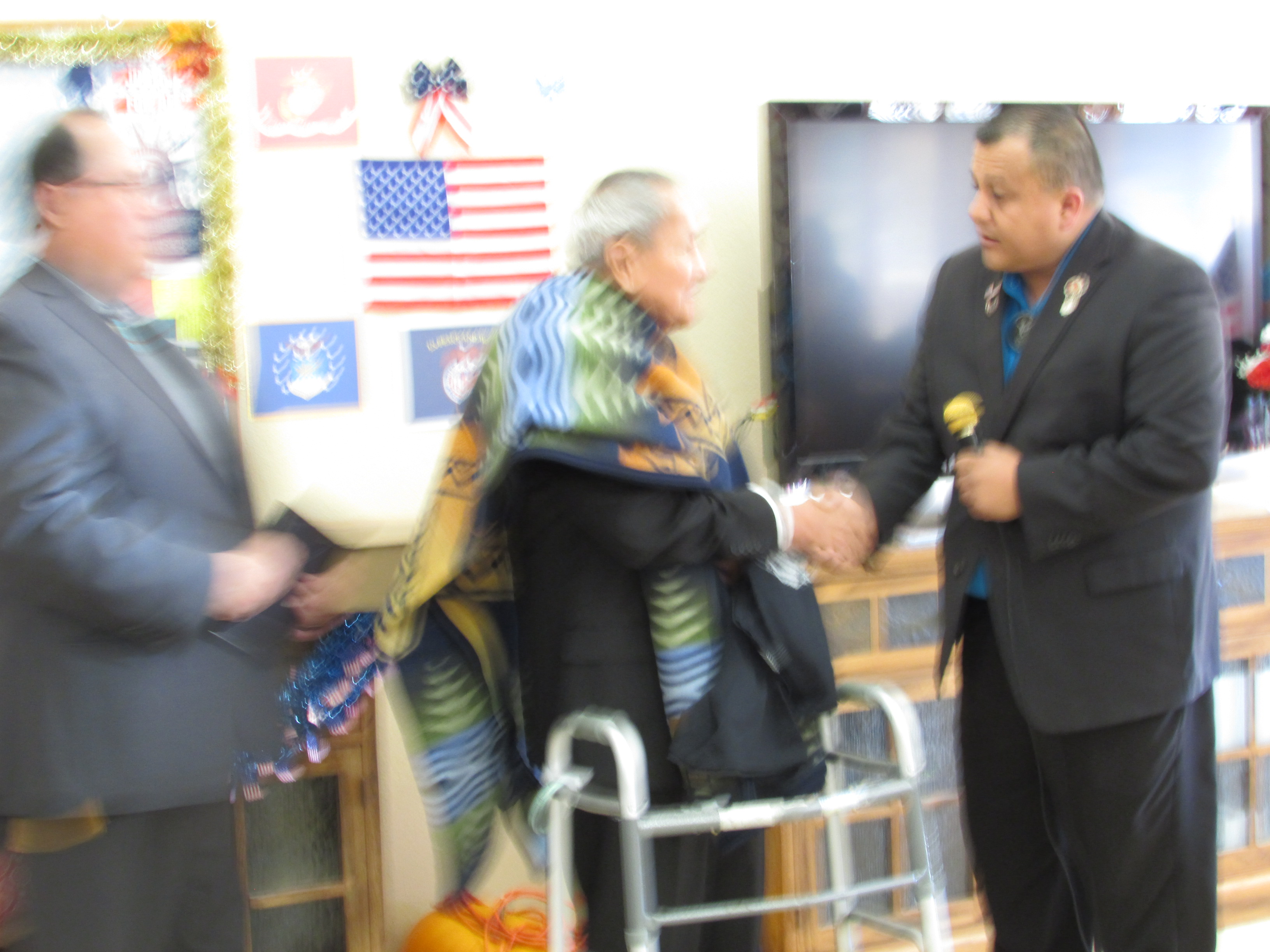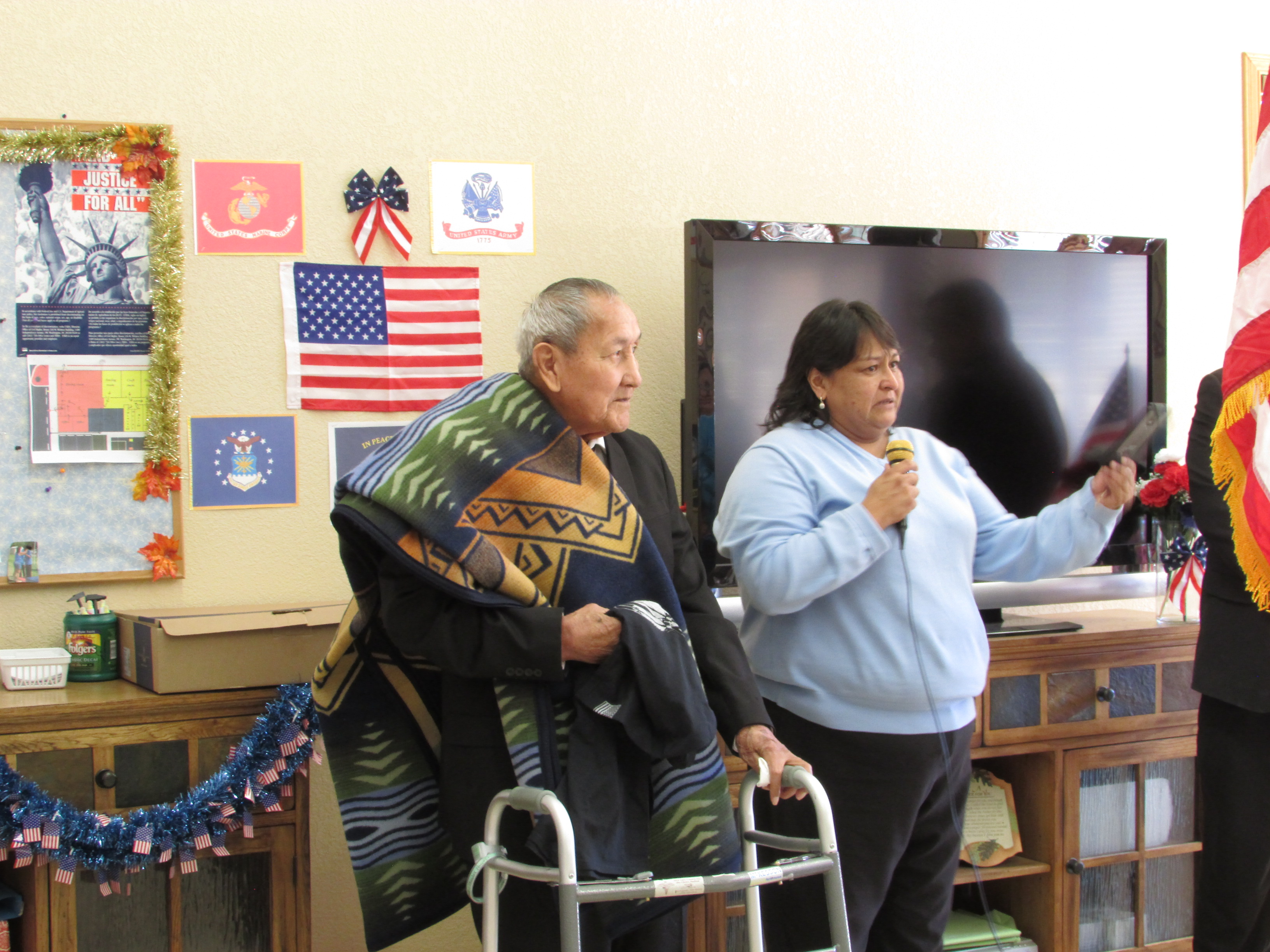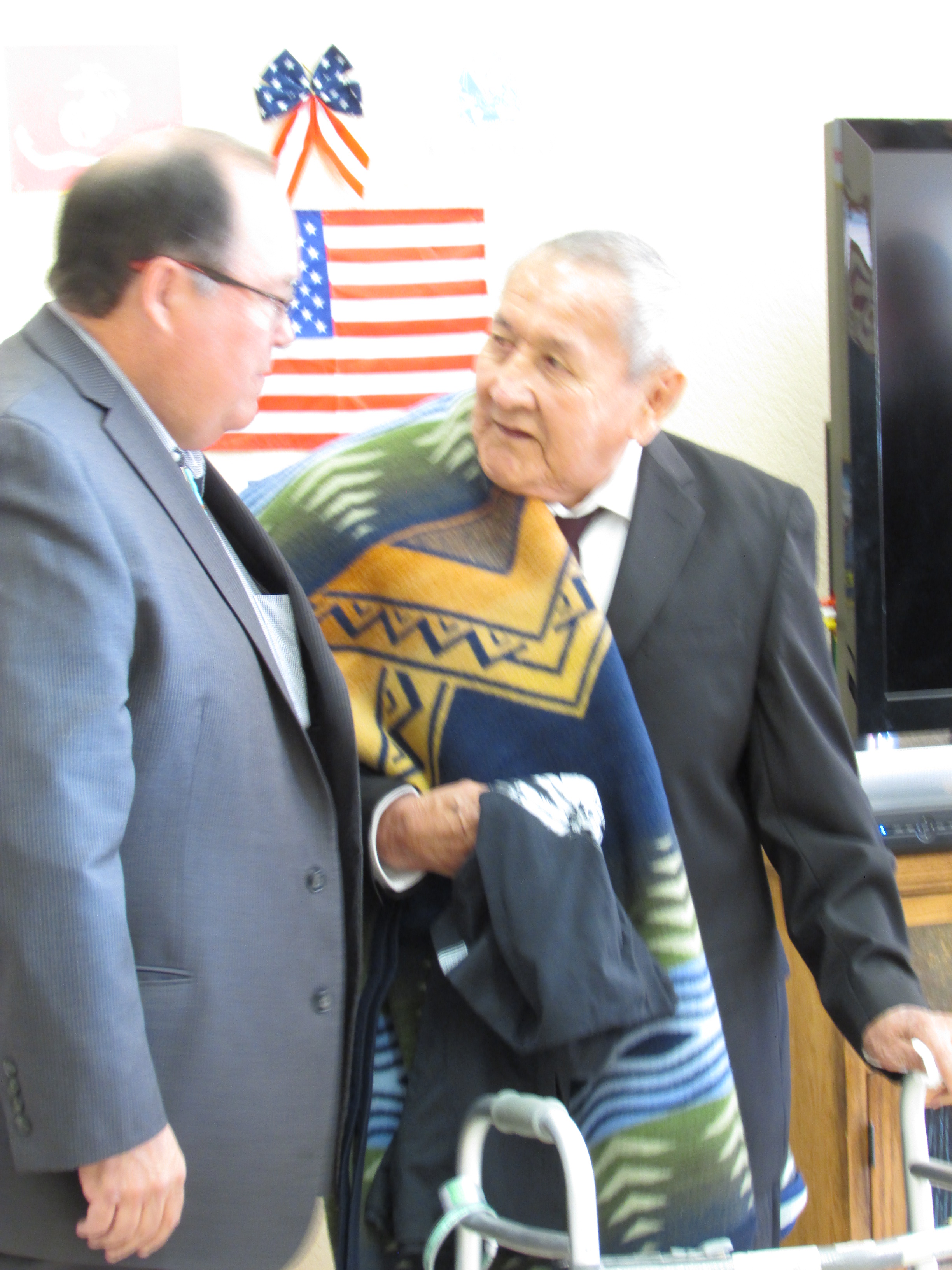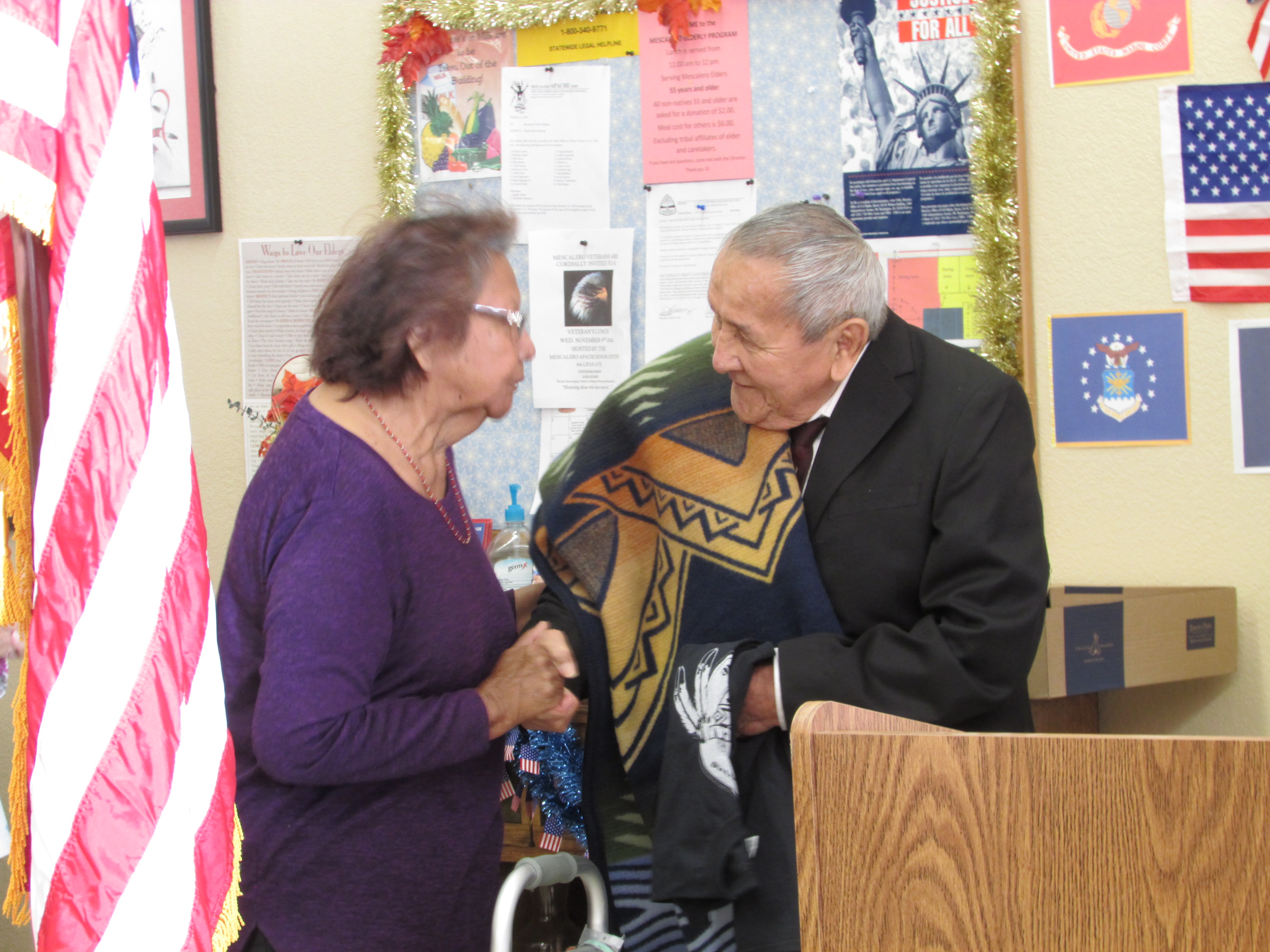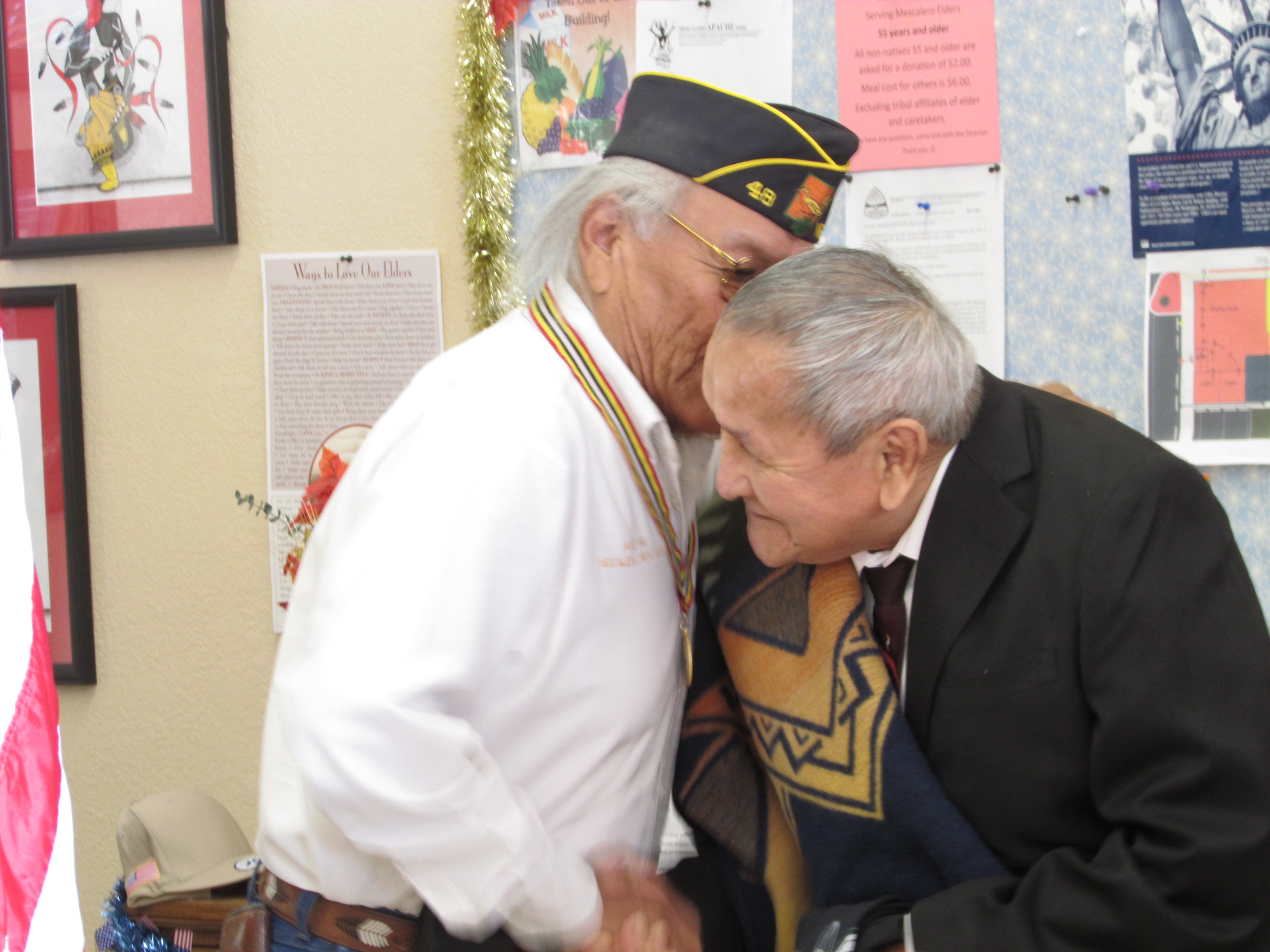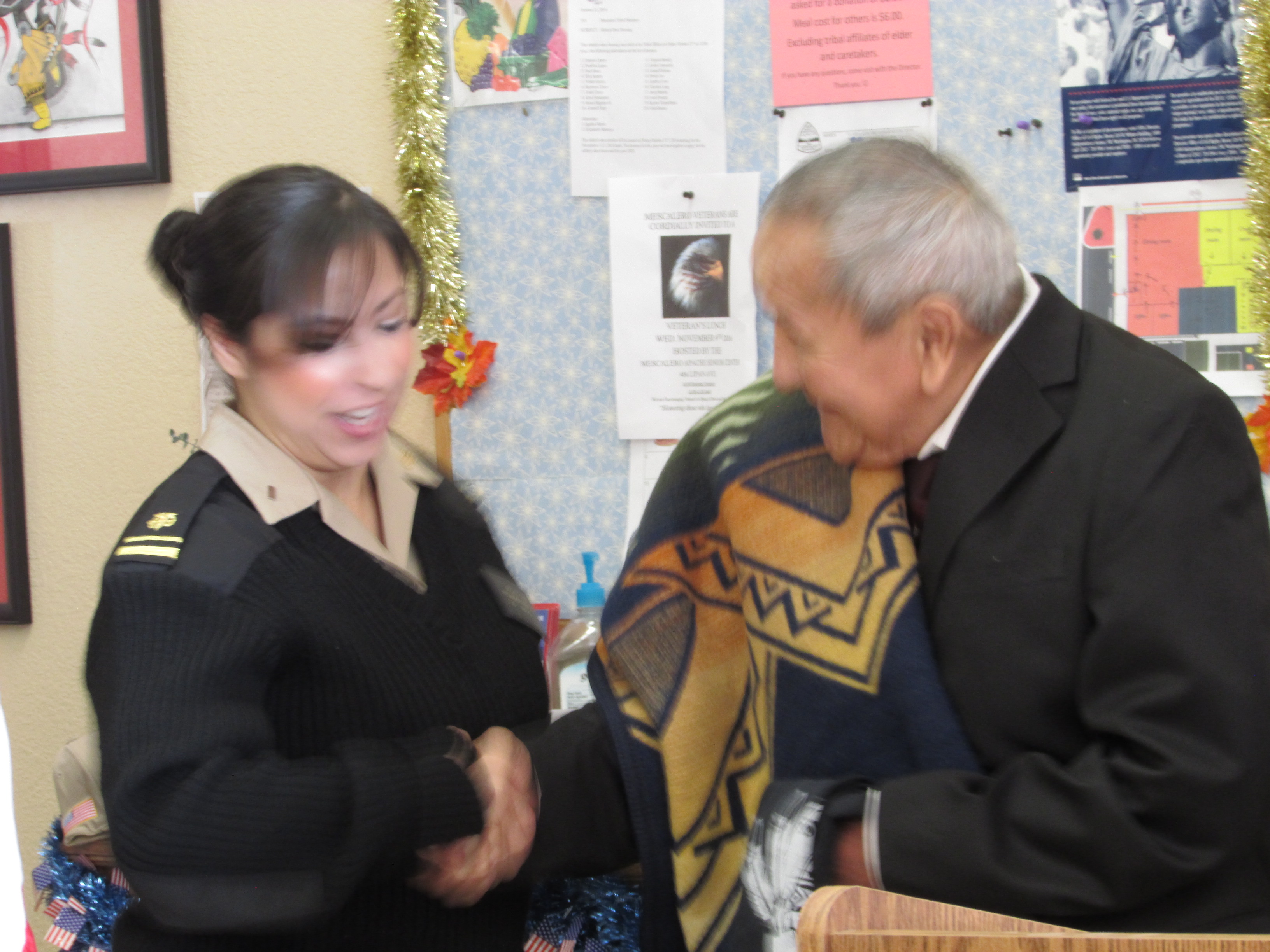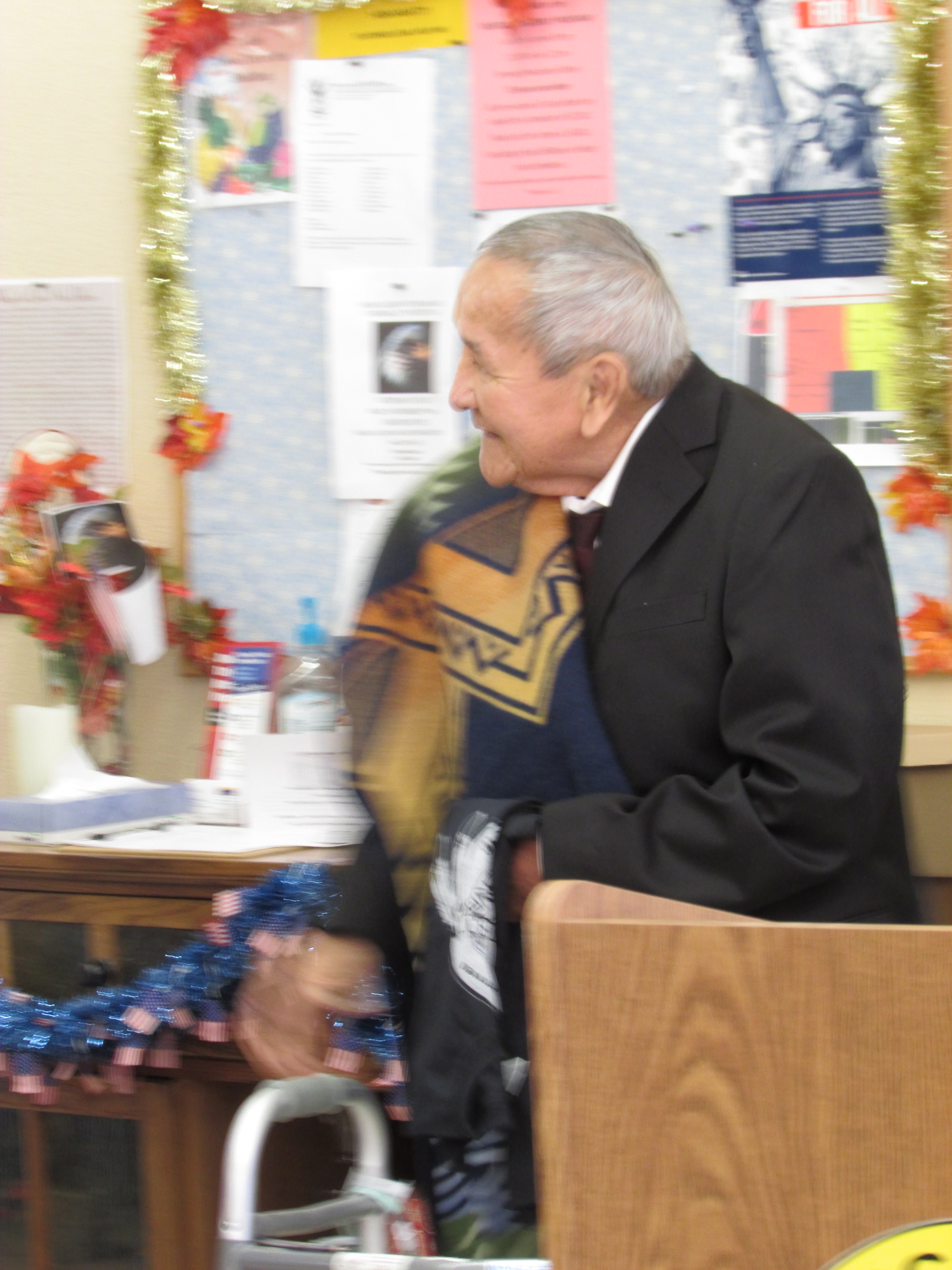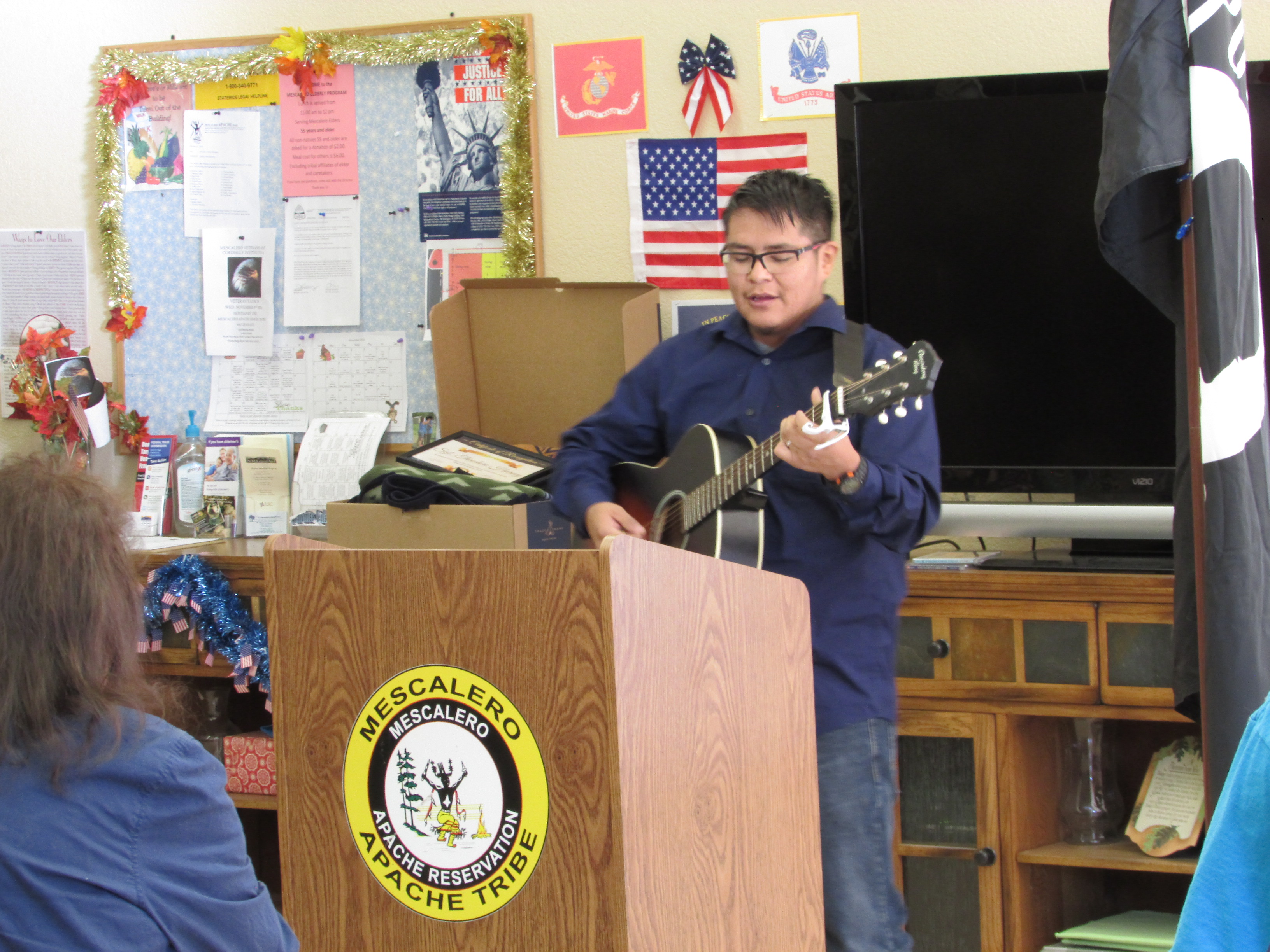 Mescalero, NM
Early November, the Mescalero Elderly Center held a very significant event for all Veterans of the United States Armed Forces within the Mescalero community.
Director and staff of the Elderly Center pulled out all the stops for showing their appreciation and gratitude to the men and women who served or currently serving by recognizing and providing lunch to Veterans and their guests.
Visitors and guests were greeted by President Breuninger, Miss New Mexico United States Vanessa Hernandez, Miss Mescalero Megan Byers, and Miss Indian New Mexico Kerrie Lester along with emcee Vice-President Aguilar.
Singers like Adelize K., Sherman Blake's drum group, and Delvon Chee performed touching iconic American and Apache honoring songs.
With the help from our royalty, the reading of the Proclamation 50th Anniversary of the Vietnam War and the names of all the Mescalero Apache men and women we read aloud.
Also in attendance, special guest and recipient of the Honor Award presented by the Mescalero Apache Tribe President, US Army Sgt. Theodore Harvey.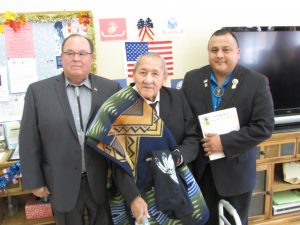 Mr. Theodore Harvey was born in Mescalero, NM in 1934. Joining the US Army in February of 1954, MR. Harvey attended Basic Combat Training at Ft Bliss TX, and Basic Infantry Training at Ft Ord, Calif.   From there Mr. Harvey received Basic Airborne training at  Ft Bragg, NC. and was subsequently assigned as an instructor for Airborne training at Ft Meade, Maryland.  Mr. Harvey then was reassigned to Ft Bragg, NC, and assigned as a section leader with the 325th Airborne Infantry until August of 1958.
In August 1958, Mr. Harvey was assigned overseas in Iceland as a Squad Leader with the 2nd Basic Combat Team.
At Ft Campbell Kentucky, in August 1959, Mr. Harvey was assigned as a Squad leader, and Platoon Sgt in the 501st Airborne Infantry, and completed US Army Ranger Training at Ft Benning Georgia  in February 1963; before being reassigned to the 17th Infantry Bde on the DMZ in Korea, as a Squad leader.
In 1965, Mr. Harvey was assigned as a Squad leader with the 18th Infantry Bde, in the Republic of Vietnam, from June of '65 until June of 1966.  Mr. Harvey's next assignment was in Germany, in 1967, as a Section leader, and indirect fire leader.
In November of 1970, Mr. Harvey once again traveled to Vietnam,  where he was assigned to the 502nd Infantry Bde,  where he earned an Army Commendation Medal in January of 1971, for actions on a combat patrol that saved the lives of fellow soldiers. While later assigned to the same combat unit, Mr. Harvey earned the Purple Heart Medal for wounds sustained in combat action, and the Bronze Star for his "outstanding meritorious service in connection with military operations against a hostile force" during the period November 1970 – November 1971.
According to SGT Harvey's official military service record, he left the theatre of operations, and the military service before either of these awards could be presented to him by the Army.
Mr. Harvey's military awards include the Bronze Star Medal, The Purple Heart Medal, Army Commendation Medal, Combat Infantry Badge, Expert Infantry Badge, Senior Parachutist Wings, Ranger Tab, the Expert Marksman Badge, the Good Conduct Medal (2nd award), The Vietnam Counter Offensive Medal, the Vietnam Defense Campaign Medal, the Korean Service ribbon, the Overseas Ribbon, and the Non Commissioned Officers Development ribbon.
For this reason, Mescalero Apache Tribe, American Legion Post #79, and The Vietnam Veterans of America, Chapter 1062, (Ruidoso)  honor SGT Theodore Harvey, as is most appropriate and fitting of this courageous and honorable warrior.