Velaina Kadayso and Ian Murphy check out the tomato plants.
Mike Montoya and George, the rescue pot belly pig.
Secretary of US Department of Agriculture Butch Blazer is given a tour of Nde Farms by the Sovereign Nations Service Corps.
Left to Right: Sovereign Nations Service Corps members, Nolan Garcia, Ariel Gallerito, Jessica Rodriguez, Bo Wardlow, Jarrod Kazhe, and Tori Marden set up for the first Farmers Market of the season.
Kristina Beggan, Nde Farms Manager gives a lecture on Nde Farms at the Mescalero STEM Conference.
The Mission of Ndé Farms is to provide services and farm products to the Mescalero Tribe and surrounding communities.   While trying to revive a modest agrarian tradition by incorporating traditional cultural foods and farming methods,  Ndé Farms also experiments with methods of organic growing and "permaculture"—a no-till, soil restoring philosophy. Ndé Farms is cognizant that the future will likely be very different from the past, emphasizing the need to conserve and wisely use our precious natural resources.  We attempt to create a process based on whole systems thinking, to mimic the patterns and relations we can find in nature and that can be applied to our produce, our farm, and our community.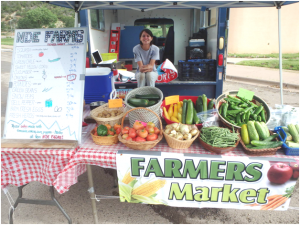 One of our goals is to become more self-sustaining in our daily lives, in transition from being dependent consumers to become responsible producers.   This will help us prepare for an uncertain future with higher energy costs and fewer natural resources.  Ndé Farms utilizes and trains Mescalero Tribal youth engaged in the Sovereign Nations Service Corps.  This last year, Ndé Farms provided service learning and employments to 16 Tribal youth and over 75 visitors.  Ndé Farms has also been very involved in the Mescalero 4-H club, and outreach to the Mescalero Apache Schools.
Ndé Farms  produces seasonal crops such as green chili, tomatoes, potatoes, onions, corn, peas, beans, squash, zucchini, lettuce, cabbage, cucumbers,  broccoli, kale, strawberries, raspberries and a variety of herbs.    However, garden crops are but one portion of our activities.  We raise free ranging chickens, ducks, goats, and a pot-bellied pig named GEORGE.   We also have a vermiculture (worm) farm, a bee-hive for our pollinator garden, and a compost-operation where we recycle table scraps and manure/guano from both our farm animals and the bats at St. Joseph Apache Mission.
The Mescalero Farmers Market is held at Chiricahua Plaza from the last week in May through November. It is held every Friday from 8am-1pm.  The Mescalero Farmers Market strongly encourages and supports other community farmers to bring their produce to the Farmer's Market every Friday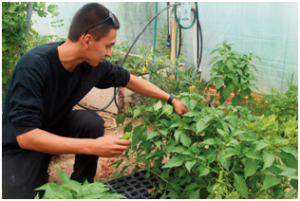 morning, from June through November.   There is no change for vendors, and after registration, vendors will be able to accept EPT / SNAP and Senior / WIC vouchers.   The Mescalero Farmers Market is participating in the "Double Up Food Bucks" program which will provide participants with twice as much fresh locally grown organic produce for every food dollar spent.
Ndé Farms continues to grow, expand and experiment with cultivating traditional foods, and new crops.  They have also made presentations to the Mescalero Schools, participated in the STEM conference, and providing tours and a Halloween Pumpkin Patch.   They will also be involved in canning and cooking demonstrations this fall and winter.  Currently,  Ms. Kristina Beggen (Student Conservation Association Agricultural Intern) is our farm manager along with staff members, Bo Wardlow (Oglalla Commons Intern) and Maci Rodrigue (AmeriCorps VISTA).  Ms. Beggen holds a degree in Sustainable Development from North Carolina State University.
For more information about Nde Farms, please contacts us at the Mescalero Fish Hatchery (575.464.8768).