This program has evolved out of a strong partnership between the US Forest Service and the Mescalero Apache Tribe to connect under-served youth with their environment.   This is a K-12 program that will provide environmental education, leadership, and employment opportunities for high school aged youth. Indigenous Generation Green will provide role models/mentors, career training, and encouragement for higher education; all while exposing high school students to Forest Service careers or other natural resource opportunities.  The goal of IGG is to support the youth leaders in the management of our natural resources by encouraging community involvement and focusing on personal growth.
The IGG be will be embedded within the Mescalero School, as well as coordinate with Tularosa and Ruidoso High School campus to reach out to Tribal students.  Proposed engagement activities will include but not limited to, implementation of 4H activities, operation of an on-site greenhouse on Mescalero Campus, creation of career development plans for youth, development/ coordination of activities with the agriculture and science teacher, organize events and activities, provide environmental education, and serve and provide mentors/role models for students.
The IGG proposed to develop a mentoring partnership among the local school districts (Mescalero,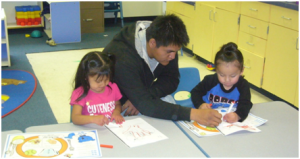 Ruidoso, and Tularosa).  The main objective for this project is to have IGG staff mentor high school students and they in turn will serve as mentors to middle and/or elementary school students.  The project serves as outreach for the 4H initiative as well as a bridge, helping middle school students' successfully transition from middle school to high school.  Target populations include students who are having trouble meeting graduation requirements and students who benefit from the program in other meaningful ways. The IGG staff are accessible positive role models. The project helps students develop the social and academic skills necessary to successfully transition to high school and participate in a career development planning and implementation process intended to guide students towards success in a natural resource management career including being a rancher and farmer. Mentors and mentees build a relationship based on trust, support, and positive decisions. Students learn the value of education, how to be team players, and the importance of making positive decisions in all aspects of life. The main goal for the IGG mentoring project is to give students the tools and the social skills necessary to excel in school and in life.
Indigenous Generation Green Leadership Camp
The Leadership Camp is an incredible program which takes students off the reservation to participate in two diverse leadership experiences.  The public outreach track takes students to Alamogordo, Las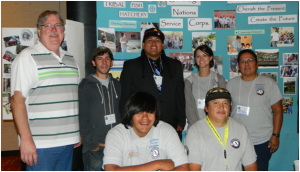 Cruces, and Albuquerque to assist the Forest Service in staffing the Forest Service County and the Otero County, Southern New Mexico and New Mexico State Fair Exhibitions,with the assistance of local military bases.  The natural resource track will take several students to participate in a field camp on the White Mountain Indian Reservation, working in the field on several natural resource management projects that will engage students in the management of forest lands and the protection and enhancement of Apache Trout habitat.
The public outreach track enables participants to work alongside Forest Service staff to educate the public about fire safety and prevention, and climate change.  They also share the importance of caring for our earth through efforts like recycling. Students run various stations with different fire safety prevention messages. This leadership camp provides many of our student with their first real work related experience, as well as their first experience away from home. Upon satisfactory completion of leadership camp, students will receive a scholarship.
As part of this leadership camp, students also develop their leadership skills by practicing public speaking, time management, team work, and listening to career/educational development and college/scholarship preparation workshops. Students have daily allocated homework time and they receive one on one tutoring and mentoring by role models who relate to them. Forest Service and other agency staff who work at Camp Smokey serve as daily career speakers with the goal of encouraging careers in natural resources. Students learn invaluable skills that will help them achieve their future goals, while making many new friends and building memories that last a lifetime.
Native American Fish and Wildlife Society Regional Conference
The IGG will prepare and participate in the NAFWS Regional Conference.  Students will prepare a presentation on a management practice they implemented during the calendar year, and make a presentation, reporting on the activity at the 3-day regional conference.  The quality of their presentation may solicit a presentation and attendance at the NAFWS National Conference or the National Congress
of American Indians (NCLI) annual conference.  Their attendance and participation at this event is not only for educational purposes, but to encourage and empower the future leaders of tomorrow.  These events will expose them to leaders and role models. During the event, these mentors educate students about the importance of embracing their heritage, while at the same time encouraging higher education.  Students receive information on how to apply, finance, and succeed in college; all while learning to celebrate and embrace their heritage.
Indigenous Generation Green Summer Crews
For several years, the Sovereign Nations Service Corps has organized summer crews to work on Mescalero Tribal lands and on the Mescalero Tribal Fish Hatchery.  With the help of federal partners, we will train and organize IGG work crews to improve forested lands through projects such as watershed restoration, restoring recreational sites, and removing noxious weeds. The Forest Service has made these partnerships possible, as Forest Service Supervisors.  Forest Service Districts and provide support for project monitoring, materials and supplies, and supervising staff.  The IGG works with partners to apply for grants, organize the crews, and mentor the students through workshops and leadership opportunities.
Ongoing Service Learning Projects
Indigenous Generation Green (IGG) students are dedicated to caring for the land and serving
their community. They meet these goals through service learning projects like Tularosa Creek Discovery Trail Project.  During the school year, the IGG will be organized into teams and will undertake service learning activities.  On weekends and/or school short days students will undertake the creation, repair, and maintenance of the Tularosa Creek project or other projects as defined by the students.  Students will volunteer to clean and develop chosen areas for parks and gardens. This project is truly a team effort, as the student's families and other community members will often join in the work.  Projects like this instill the importance and value of community service, while helping students improve their leadership skills.